Picture of the day - October 6, 2006
Fall Arrives In Southwestern Virginia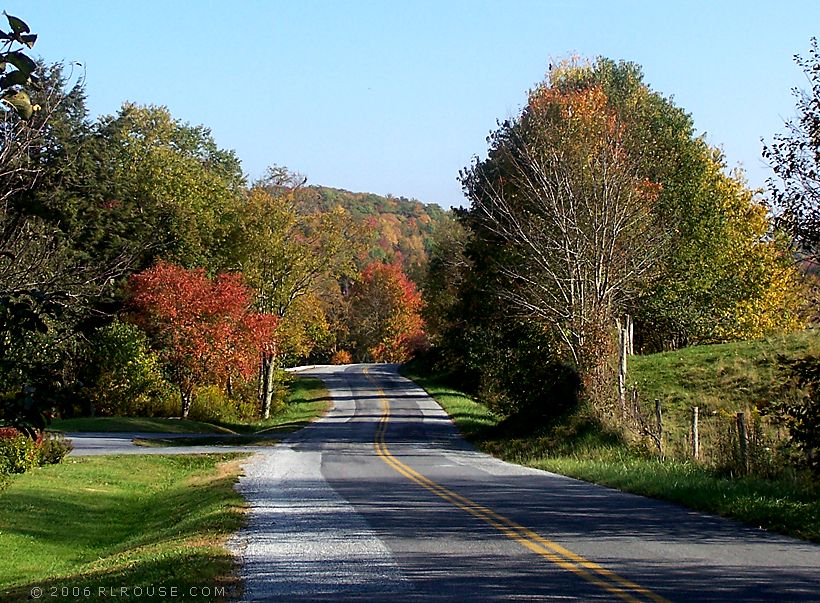 Click photo to enlarge
Cheria and I took a drive up to Whitetop Station yesterday afternoon, and as we followed the curvy country roads we became quite impressed with the way the leaves were changing color in many areas. We hadn't really expected to have a very scenic fall season this year because many of the trees here in southwestern Virginia began losing their leaves long before they had a chance to change colors. But it appears that the woods are going to "bloom" rather nicely after all.

The Abingdon, Damascus and Whitetop areas have become very popular tourist destinations in recent years, with autumn being the busiest season of all for the local bike shops and bed & breakfasts. Our region now ranks right up there with New England as a "must visit" for the thousands of "leaf peepers" that hit the roads every fall in order to witness one of nature's most beautiful and dramatic transformations.

The beauty of a southwestern Virginia autumn is nothing new to me. After all, I was born and raised here. But when I was growing up on our farm in Widener Valley, I never really paid much attention to the fall colors. They arrived every year, like clockwork, so I just sort of tuned them out. Then came graduation - and a reality check...

I spent the next few years living in other parts of the country, and in most of those places the fall foliage wasn't anywhere near as spectacular as it had always been "back home". Well, now I have moved "back home", and I can tell you that I have gained a new-found appreciation for the wonderful blessing God bestows upon us every October.
---
Picture Of The Day Homepage | Submit a photo