Picture of the day - October 5, 2006
Whitetop Station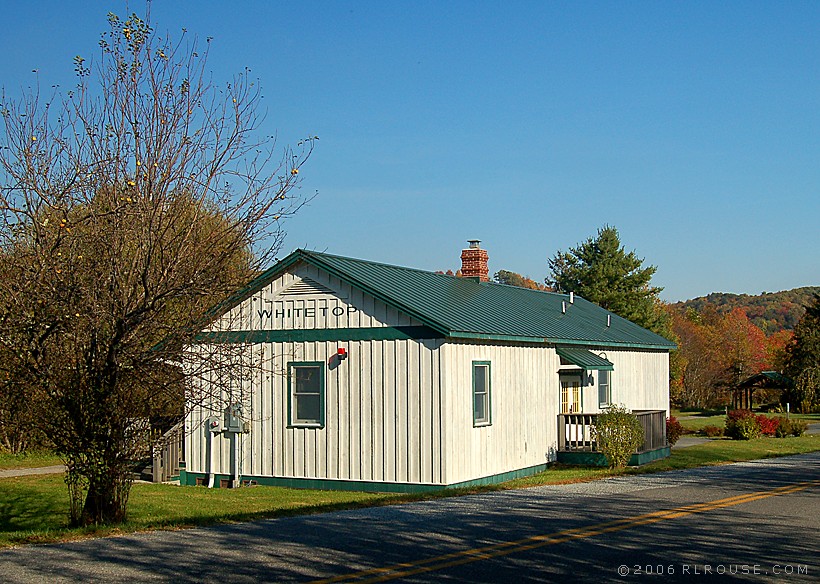 Click photo to enlarge
Today's picture features Whitetop Station, the place where several bike shuttle services drop off their passengers as they embark on one of the most amazing bicycle rides in the country. From Whitetop Station, the bikers travel more-or-less downhill through 17 miles of magnificent mountain scenery as they make their way to the beautiful and friendly town of Damascus, Virginia.

Although I have been to Whitetop Mountain itself on many occasions, until today I had never visited the old Whitetop train station. The Virginia Creeper rumbled up and down the rails between the North Carolina state line and Abingdon, Virginia for several decades until she made her last run on March 31, 1977, and countless passengers got on and off the train at the original Whitetop Station. Today, a replica of that historic building serves as a visitor center filled with displays detailing the history of the Virginia Creeper line and the Whitetop area.

If you have never biked the Virginia Creeper Trail, a great place to start is one of the bike rental shops in Damascus. For a small fee, they'll rent you a bicycle, then haul you (along with the bike) up to Whitetop Station where you'll begin one of the most memorable adventures of your life! Just be sure to take a camera along!
---
Picture Of The Day Homepage | Submit a photo