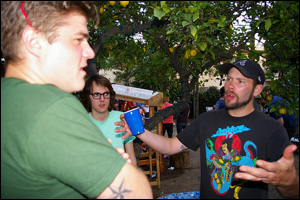 Having a dispute with your neighbor is not an uncommon occurrence. Disagreements with your neighbors can happen. They can turn into arguments and, later on, into disputes.
During this time, some people often do crazy and stupid things, such as verbally assaulting the other party or even destroying some of their property. Note though that you can get your reputation ruined by doing so. You can get charged with a criminal case or two, depending on what stunt you pulled off.
For this reason, here are a few things that you will need to remember to keep your reputation safe during a domestic dispute:
Keep Your Cool
As mentioned earlier, a dispute between neighbors isn't an uncommon thing, so you will need to learn how to handle the situation and handle it well. Perhaps the most basic thing that you will need to remember is to keep yourself calm. Be civilized. Talk it out with your neighbor. Don't do anything crazy. A lot of people tend to lose their cool in these situations and end up getting charged with several offenses.
Leave the Scene
If, for any reason, you are starting to lose your cool during the situation, you can simply opt for the safer route, which is to leave the area until your head cools off. This is perhaps the best way to control your anger, especially if the you are already planning on doing something dumb like hitting your neighbor's car with a baseball bat or letting his annoying garden gnome have it with a shovel.
On certain occasions such as this, it is best for you to just leave the scene to get back to being calm. On a side note, don't take your car with you since some people get tempted to run over things. You might be tempted to run over the property of your neighbor or, worse, your neighbor himself.
Don't Drink
Once you have left the scene, there is one particular place that you will want to avoid, and that place is your local bar. Sometimes, we like to spend our time at a local bar, especially if we're under a lot of stress. While there is always the possibility that this might work in relieving some of your anger, most of the times, things don't go according to plan.
Alcohol impairs you in your decision making thought process, and as already mentioned earlier, you will need to keep your calm in order to avoid doing anything stupid. So if you really want to make sure, you'd best avoid visiting your local bar or drinking any alcoholic beverages for that matter.
Call a Mediator
There are different causes for domestic disputes. Some are caused by wild, loud parties late at night; some are caused by pets making a mess of another person's yard; while some disputes are simply caused by small disagreements that get out of control later on. If the dispute is quickly escalating between you and your neighbor, it is best for you to call someone to help settle the dispute and help both parties come to a sensible conclusion.
Doing crazy things to your neighbor or to his property can lead to dire consequences regarding your reputation. Know that you can get charged with a $200 fine or more for intentionally destroying another person's property, and then there's also the possibility of jail time that can reach up to 2 and a half years, depending on your local state law.
About the author: Gerard Callaway is a writer for ElliotSavitzLaw.com, a criminal defense attorney in Massachusetts. He also writes articles about criminal charges for various related sites.
Photo credit: Frederick Dennstedt