Picture of the day - September 7, 2006
Phyllis Helton Working At The Mountain Music Museum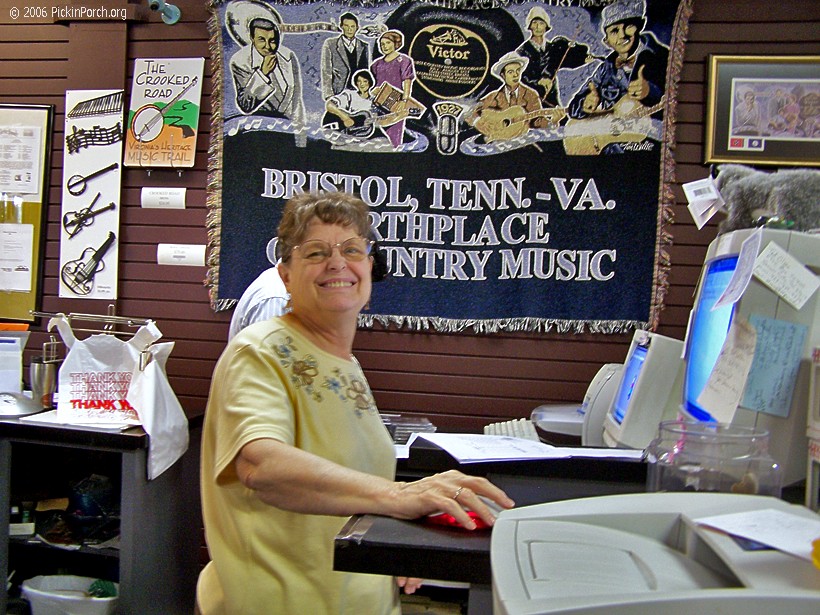 Click photo to enlarge
Today's picture features Phyllis Helton, a wonderful lady who puts in many hours each week running the Mountain Music Museum & Gift Shop in Bristol, VA-TN. Phyllis always has a smile on her face and a warm welcome waiting for each and every person she sees throughout the day - and that's a lot of people!

Phyllis and her husband Teddy are both dedicated to helping preserve the rich musical heritage of the middle Appalachian region, especially the Bristol area which played such an important role in the creation of an entire genre of music - what we now know as Country. Nashville is what it is today because of the seeds that were planted in Bristol by the Carter Family, Jimmie Rodgers and the Stonemans during the hot July of 1927 when they spent two weeks with Ralph Peer recording the very music that Phyllis and Teddy are working so hard to help preserve.

If you ever find yourself in the Bristol area, why not stop in at the Bristol Mall and visit the wonderful Mountain Music Museum? You'll enjoy stepping back in time among the many interesting displays and artifacts of our unique musical heritage...and you'll most likely get to meet one of the most wonderful ladies on the face of the planet!
---
Picture Of The Day Homepage | Submit a photo