Picture of the day - October 27, 2006
The Boohers Performing At The Mountain Music Museum
---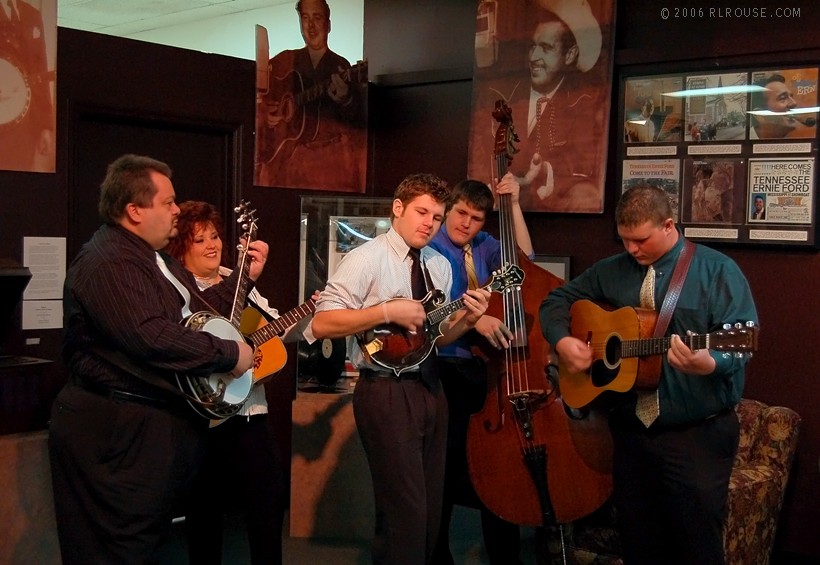 Click photo to enlarge.


Yesterday afternoon the Mountain Music Museum hosted a press conference held by ACMA President Tim White. After spending several minutes discussing the mission of the newly-formed group and unveiling a couple of new displays for the museum, Tim relinquished the floor to The Boohers who proceeded to entertain the crowd with some of the finest Bluegrass Music I have ever heard.

The Boohers frequently take the stage at several local venues such as the Pickin' Porch, the Carter Fold and the Paramount Theater, but they are also one of the fastest rising professional Bluegrass bands in the country. Their busy schedule has them performing at venues large and small all across the United States, and they are real crowd-pleasers at every stop!

The band had sort of an "unveiling" of their own yesterday as many of us got to see new lead guitar player Josh Doss in action for the first time. Although Josh is just 18 years of age, he has been playing guitar for years - and it shows! This young man can pick with the best of them and I expect him to have a long, successful career in the music business.

---