Picture of the day - July 21, 2006
Damascus, Virginia's Backer Park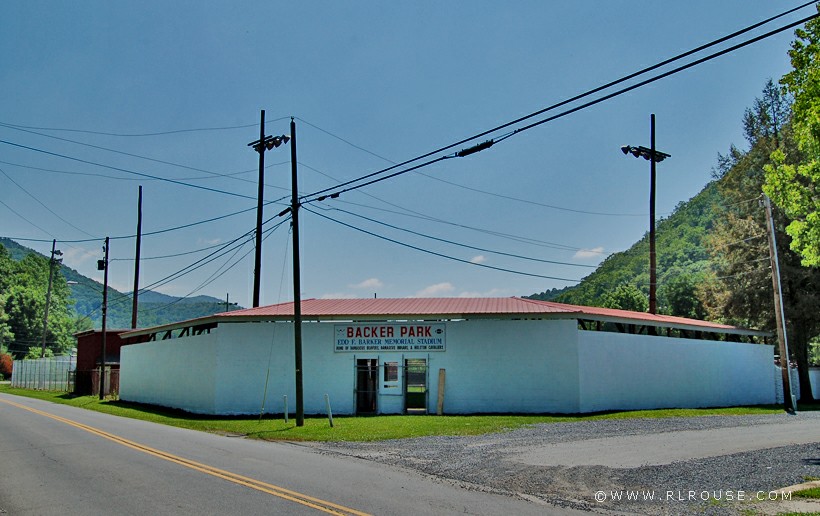 Click photo to enlarge
If you ever have the opportunity to visit the beautiful town of Damascus, Virginia, take a short drive, hike or bike ride down Shady Avenue and you'll find a very special ball park sitting right beside the historic Rock School building. Backer Park is a legendary place where several generations of boys and young men compiled some of their most precious memories while playing the American pastime - the wonderful game of baseball.

In 1920, the citizens of Damascus began searching for a way to procure a new school building in which to educate the town's growing population of children. After raising a total of $60,000 from various sources to cover the costs of construction, all the townspeople needed was the property on which to erect the structure. At that time, a gentleman by the name of C.G. Backer was serving as the secretary and treasurer for the Smithport Extract Company. Recognizing the need for the new school, he donated enough land to the town to build the school as well as an athletic field. The new ball field was named "Backer Park" in his honor.

Many baseball teams have called Backer Park home over the years, including the Damascus Beavers, the Damascus Indians, the Holston High School Cavaliers and countless school children who played in various organized leagues and/or "pick-up" games. I myself played "Senior League" baseball at Backer Park for three years.

Thanks to the generosity of Mr. Backer, the youngsters of Damascus have had a great place to play ball for over eight decades. The park is still in use today, and given its rich history and the huge number of memories that were made there, it will be a shame if it ever closes.
---
Picture Of The Day Homepage | Submit a photo