Picture of the day - May 22, 2005
The Old Rock School In Damascus, Va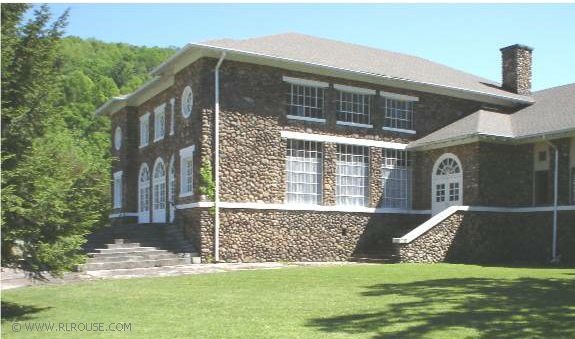 Today's picture features the old Rock School building in Damascus, Va. The Rock School was built in 1923 by over 500 community volunteers (my grandfather included). They used horses and mules to haul the thousands of river rock used to build the school from the nearby creeks.

This historic building's unique architecture has made it a primary focal point in Damascus ever since it was built. It served the town well as a combination high school and elementary school until the early 1960's when Holston High was built and the Rock School became Damascus Elementary.

In 1981, Washington County built several new school buildings and closed some old ones, including the Damascus Rock School. After the closing, the Rock School building was converted into apartments which still serve the residents of Damascus today. The auditorium is used each year as a venue for the presentation of classes, lectures and other special events during the Damascus Trail Days celebration.

The citizens of Damascus had the foresight to preserve the historic Rock School building and put it to good use instead of demolishing it or letting it fall into a state of disrepair. But beautiful and historic Liberty Hall (one of the other county schools closed in 1981) wasn't so lucky. The building and grounds somehow ended up in the hands of a local farmer who used it as a literal pig sty, and today it is in horrible shape.

If you ever have the opportunity to visit Damascus, Virginia, be sure to stop by the old Rock School and check out a true architectural masterpiece!
---
Picture Of The Day Homepage | Submit a photo