Picture of the day - October 26, 2006
Foggy Afternoon On Skyline Drive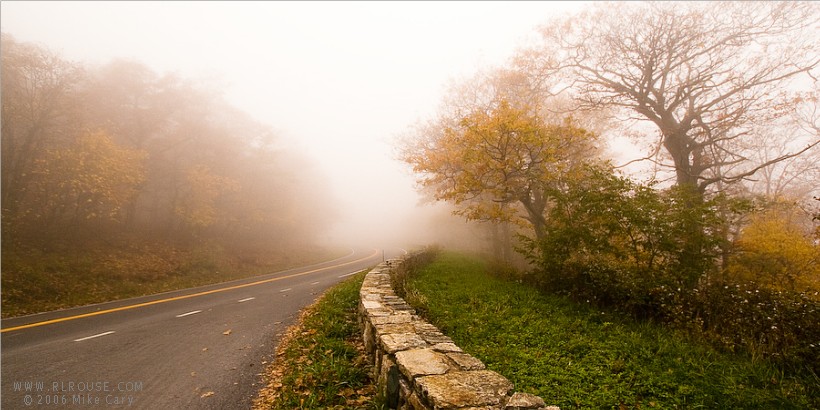 Click photo to enlarge

This month Shenandoah National Park is celebrating the 75th anniversary of the scenic mountain highway we know today as Skyline Drive - the northernmost 105 miles of the world-famous Blue Ridge Parkway.

The 32 mile stretch of Skyline Drive that lies between Thornton Gap and Front Royal, Virginia opened to the public on October 1, 1936, and since that day millions of people from all over the world have enjoyed majestic views of the beautiful Shenandoah Valley which lies to the west of the Blue Ridge Mountains as well as the Piedmont plain to the east.

The views from atop the Skyline Drive rival those of any on the planet, especially at this time of the year when the fall foliage has turned the mountainsides and valleys below into masterpieces the likes of which would be suitable for display in any museum. And since Shenandoah National Park and Skyline Drive are within easy driving distance of much of the eastern half of the United States, there is no reason why you can't experience these amazing mountain views for yourself!

Photographer Mike Cary captured this stunning image on October 19 while enjoying the northernmost section of the Skyline Drive. Like it had been during most of the previous week, the area was blanketed in fog - which limited visibility but made for some very interesting photographs. It's hard to imagine taking a picture any better than this one!
---