The Blue Ridge Mountains of Virginia, North Carolina and Tennessee offer some of the world's most spectacular scenery, and the Blue Ridge Parkway allows visitors to easily see virtually all of it.

The Blue Ridge Parkway extends 469 miles from Virginia's Shenandoah National Park to the Great Smokey Mountains National Park in North Carolina and Tennessee. Along the way, this amazing road meanders from one breathtaking peak and ridge to the next.

The Blue Ridge Parkway features many scenic overlooks where you can pull off and enjoy views the likes of which exist nowhere else on earth. Many travel writers and numerous tourists consider the Parkway to be "America's Most Scenic Drive". In fact, traveling the Blue Ridge Parkway in autumn is one of the country's most popular vacations. Take just a short drive of your own anywhere along its length and you'll quickly see why!



One of the numerous spectacular views along the Blue Ridge Parkway.


The photograph above offers just a sample of the amazing beauty that lies all along the Blue Ridge Parkway. There are also many historic sites where you can pull off for a little while and stretch your legs, enjoy a wonderful meal, and step back into time, including the Peaks Of Otter (at milepost 86) and Mabry Mill.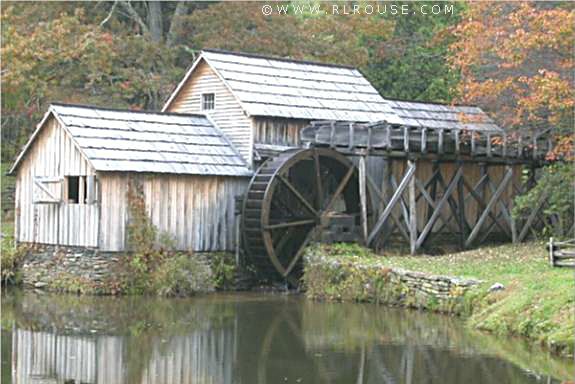 Mabry Mill in Floyd County, Virginia (at milepost 176)


Floyd County, Virginia's Mabry Mill is perhaps the most photographed site along the entire Blue Ridge Parkway, and it's just one of the many beautiful and historic sites you can see when you plan your own Blue Ridge Parkway vacation!

---