Picture of the day - September 5, 2006
Mom "Signing" One Of Her Handmade Quilts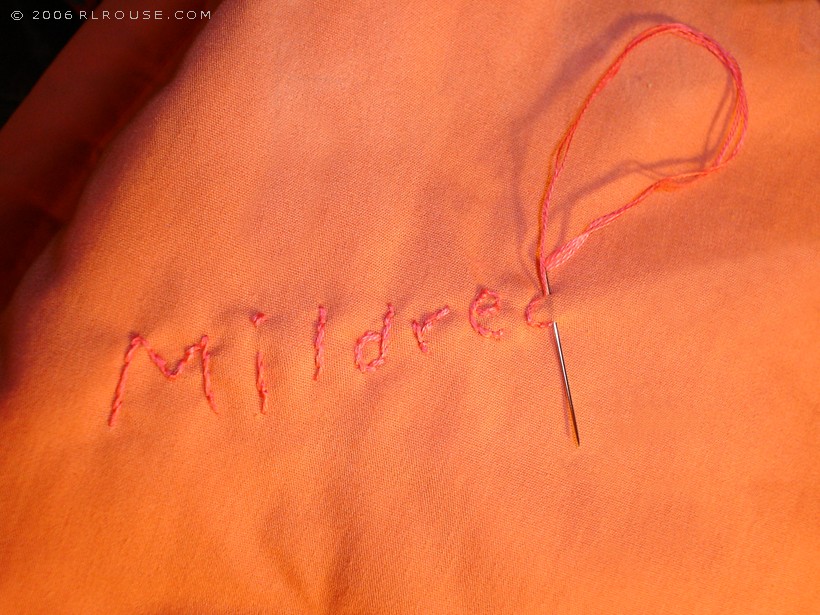 Click photo to enlarge
Over the course of her 79+ years, my mom has probably made over 1,000 quilts, most of which were carefully handcrafted from "scraps" of recycled material from old jeans, shirts, sheets or any other type of cloth item that had reached the end of its useful life. And although they were all quite beautiful, most of those quilts were built to keep someone warm on cold winter nights, not to help beautify a home.

Mom began making quilts as a young girl out of necessity, not because she enjoyed it. Her family was large, the house was drafty and the winters were cold. Times were hard back then, and there was no money in the meager family budget for buying quilts...so she helped grandma make them from scratch.

As time went on and mom grew older, the seemingly endless task of making quilts evolved into a labor of love. She really enjoys taking small, virtually random pieces of cloth and turning them into a work of art. And that's exactly what mom's quilts are: works of art! They'll probably never be on display in a museum or hang on a wall in the White House, but mom's beautiful quilts are just as unique and masterfully designed as any painting by Rembrandt or Renoir.

Even though she has created over 1,000 masterpieces in her lifetime, mom has never put her "mark" on even one of her creations - until now. My cousin Jackie recently asked mom to make her a special quilt, and she asked her to "sign it" by sewing her name in a corner of the fabric. Although she had never done that before, she said she would give it a try - and the result is the "Picture Of The Day"!
---
Picture Of The Day Homepage | Submit a photo