Picture of the day - July 12, 2005
A Special Child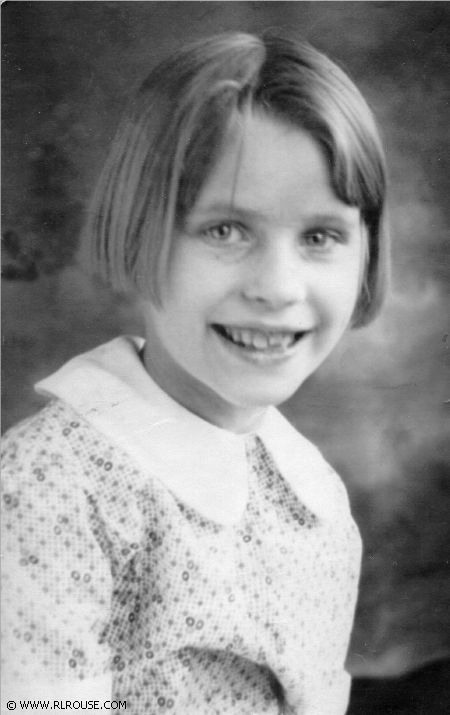 The little girl featured in today's picture is a very special child...a child that is loved by all for the special gifts she has always eagerly shared with family, friends and total strangers alike.

This beautiful little girl loved and respected her parents when they were living, tenderly caring for them as illness and age took their toll. She helped take care of a special brother as he lay dying with leukemia. This wonderful child with a smile that could brighten up the darkest winter day grew up to become a special mother who worked long and hard even as she loved and raised eight children and several grandchildren, and that motherly love is still in abundance today.

This young girl came to know the Lord at a young age, and she has spent every moment of her life since then loving Him and telling others how He died on the cross at Calvary for her and how He did it for them too. This amazing little girl is a child of God, and she lets everyone know about it.

The beautiful young girl in this picture is my mother at age 7, and today is her 78th birthday! But growing older isn't a problem for mom - she realizes that lots of people don't get the chance to grow old. She has aged graciously through the years, and she looks forward to the day when she'll be living for a literal eternity in a much better place, wearing that same beautiful smile which will never fade away.

Happy birthday Mom! I love you very much and I appreciate the love you have always given me and continue to give me to this day. God blessed me with the best mother anyone has ever had!

I'll always remember how you never lost your beautiful little girl's smile, even in times when there was little to smile about. And I take comfort in knowing that when the time comes for God to call you into his presence you'll be waiting with open arms for me and everyone else who has followed your example and accepted Jesus as their Lord and Saviour.

---
Picture Of The Day Homepage | Submit a photo