Picture of the day - February 24, 2005
Mabry Mill
---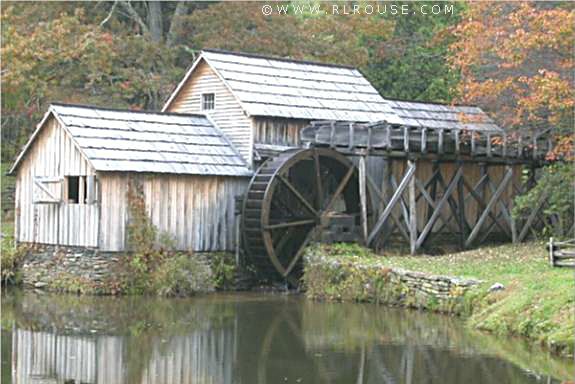 Floyd County, Virginia's Mabry Mill is probably the most photographed site on the Blue Ridge Parkway (you'll find it at mile post 176). You can visit Mabry Mill as a quick break from driving or spend the entire day.

Visitors can witness demonstrations of old-time specialties and crafts including basket weaving, spinning and chair caning. You can spend some time looking through the blacksmith shop, sawmill, wood working shop and the grist mill itself for a living history lesson. Mabry Mill has plenty to offer for everyone in the family!

In the late 1800's, the water-powered Mabry Mill was built by Edwin Boston Mabry (1867-1936) in the picturesque Floyd County mountains as a means to grind corn and wheat. Little did he know that his old mill would some day end up as one of the Blue Ridge Parkway's most beloved attractions.

The next time you find yourself traveling through southwestern Virginia or along the parkway, remember that you're always invited to stop in and check out historic Mabry Mill!

---