Picture of the day - October 14, 2006
The First Frost Of The Season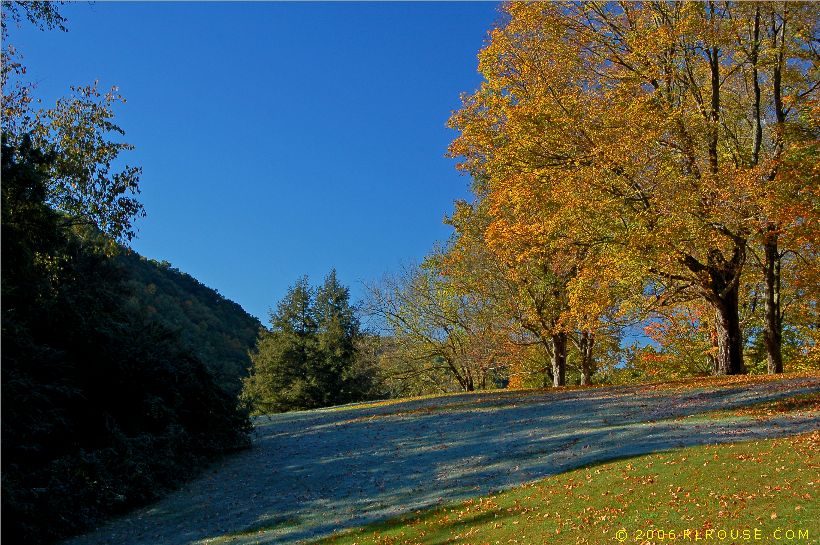 Click photo to enlarge
Many of us who live in the Mountain Empire rolled out of bed yesterday morning and found our lawns covered with a heavy frost, the first of the 2006 fall season. I have never really paid much attention to the calendar's opinion of which day should be considered the first day of autumn. For me, fall has always started when jack frost pays his first visit to whichever area I happened to be living in at the time.

WCYB TV's chief meteorologist Dave Dierks gave us fair warning during Thursday night's weathercast when he said that some parts of our region would get some frost overnight, and he was right. In fact, during an early morning drive from my home near Abingdon, Virginia to Blountville, Tennessee I saw a more-or-less continuous frosty landscape all along Interstate 81.

There are several defining weather events that take place throughout the year, with my favorite being the first spring day that is so warm and "flowery" that I simply have to let everyone I see know that "Spring has sprung!". But there is something about the first frost that always leaves me with mixed feelings. The silvery-white blanket of frost contrasts splendidly with the colorful leaves and the green grass, resulting in a magnificent landscape the likes of which can only be created by God Himself. But then there is the flipside...

Psychologically, that same frost helps hasten the transition from fall to winter by making most of the remaining greenery turn a dull brown, reminding us that before long these beautiful, seasonably comfortable autumn days will be no more. Winter is just around the corner.

I took today's picture at Bristol, Tennessee's Steele Creek Park yesterday morning. It was a little after 9:30AM so the warm morning sun had already melted much of the season's very first frost.
---