Picture of the day - October 12, 2006
Autumn Leaves On The Virginia Creeper Trail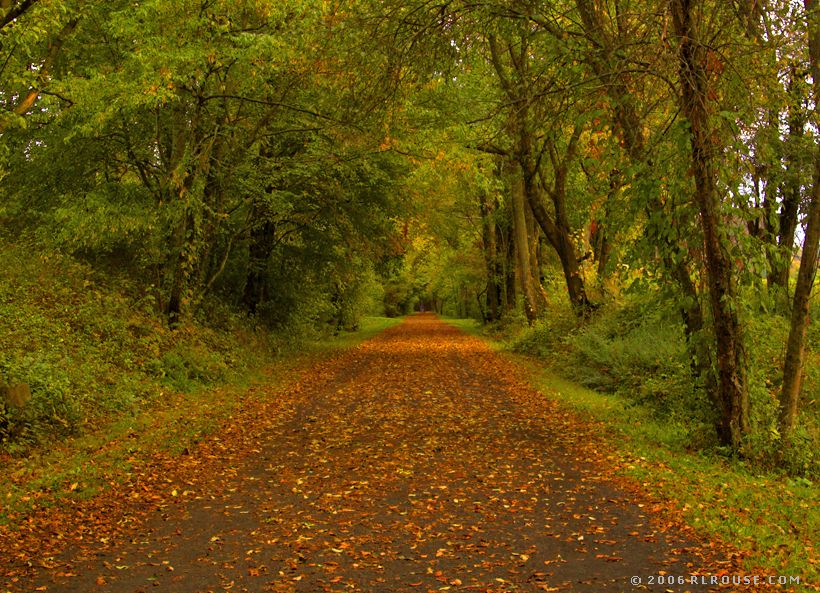 Click photo to enlarge
As autumn began to arrive in southwestern Virginia, I noticed that many of the leaves were falling from the trees before they had changed color - which usually means that the fall colors are going to be somewhat less spectacular than usual. But a few days ago Cheria and drove up to Whitetop Station and discovered that the trees up there were "blooming" quite nicely.

Yesterday evening I went for a walk on the other end of the Virginia Creeper Trail hoping to find the same beautiful colors. I parked at the trail head in Abingdon and began walking up the trail, snapping pictures as I went. I did see plenty of colorful autumn leaves, but sadly, most of them were lying on the ground. Apparently the Abingdon to Watauga section of the trail is going to be a little bland this year...

But there is good news as well - the Creeper Trail is gorgeous any time of year regardless of the color of the leaves! God has truly blessed our region with one of the most scenic hiking and biking trails in the entire world. I guess He simply decided to give us something a little different this year, and I thoroughly enjoyed seeing His latest masterpiece!
---
Picture Of The Day Homepage | Submit a photo