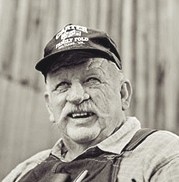 This is a sad day for the extended Carter family and their friends & fans. Our beloved old friend Joe Carter has gone to be with the Lord.

Joe spent his long life doing his very best to spread cheer, laughter, and wonderful mountain music to a grateful world.

All who came into contact with him loved him, from his neighbors in Hiltons, Va who bumped into him at the gas station or the post office to the many thousands who were privileged to see him perform on Saturday nights at the
Carter Family Fold (which he designed and built).

Whether he was singing an old Carter Family standard with sister Janette or entertaining the audience with his trademark animal sounds, witty humor, and ever-present smile, Joe helped make sure that all who visited the Fold left with a tune on their lips and a feeling that they had just witnessed something truly special. His deep, resonating voice and vocal harmonies made him seem like an old, trusted friend to complete strangers from all around the world.

Although Joe has lost his battle with pancreatic cancer, we can rest assured that he is now merrily singing along with an angel band somewhere beyond the clouds. His work here on earth is now finished, but he is surely enjoying the ultimate retirement.

Joe Carter was a good man and a great talent among a family of musical giants. He will always be loved and sorely missed.
---
Related items:
---
Back to the Bluegrass main page