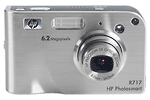 With the Photosmart R17-6MP, HP has once again delivered an exceptional digital camera at a very competitive price.

And since it uses HP Real Life Technologies, this amazing little 6 megapixel camera takes photos that rival those from digital cameras that cost several times more. Tons of advanced features and an easy to use menu system make it easy to take great pictures with a very short learning curve.

12 shooting modes give you the capability to create very high-quality images in virtually any environment, including low light and motion.

Product Specs:
Uses HP Real Life Technologies: Adaptive lighting, in-camera red-eye removal, in-camera panorama preview, image advice, noise filter, adaptive demosiac, vignetting, preferred photo reproduction

Manual controls include EV compensation, image quality, white balance, ISO speed, AE metering, color, saturation, sharpness, contrast, AE bracketing

Resolution of photos: 6.2 megapixels; 2864 x 2160 pixels

36 bit depth

1/1.8 inch CCD image sensor; 2934 x 2170 total pixels; 2864 x 2160 effective pixels

32 MB storage capacity

Capacity for still images: Best: internal memory: 10 images, 2.5 MB file size, 2934 x 2170 resolution. Better: internal memory: 19 images, 1.4 MB file size, 2864 x 2160 resolution. Good: internal memory: 32 images, 834 KB file

Compatible with these memory cards: Secure digital (SD), MultiMedia card (MMC); emory per slot (maximum): 1GB

Optical view finder

HP precision optical lens; 24x total zoom; 3x optical zoom; 8x digital zoom; 8 to 24 millimeter focal length; approximately 39 to 117 millimeters (35 mm equivalent); F2.8 to F4.8 m (wide); F4.9 to F8.4 m (telephoto)

Focal distance (digital): Approximately 0.5 meters to infinity (wide), approximately 0.7 meters to infinity (telephoto), approximately 0.14 to 0.9 meters (macro wide), approximately 0.5 to 1 meter (macro telephoto)

Focal range: 8 to 24 millimeter focal length (equivalent to 39 to 117 millimeters)

3x optical and 8x digital zoom

16 to 1/2000 sec shuuter speeds

Exposure rating: ISO 50, 100, 200, 400

Exposure type: manual, automatic; control: center weighted auto exposure metering (AE), spot auto exposure metering (AE), average auto exposure metering (AE); correction: plus or minus 3 EV in 1/3 steps

Manual and automatic aperture settings

Aperture range: F2.8 to F4.8 (wide), F4.9 to F8.4 (telephoto)

Built in flash

Flash functions: auto (default), auto with red-eye, flash on without red-eye, flash off, night with red-eye; Working distance: 16.4 feet (wide), 9.2 feet (telephoto) at auto ISO (5 meters, 2.8 meters)

Capture mode: Normal (default), self-timer, self-timer (2 shots), burst, video

3 shots/seconds, 3 shots maximum burst rate

10 second self timer

Shutter setting: Automatic; shutter lag: 0.5 seconds

Shooting modes: Auto (default), action, landscape, portrait, beach, snow, sunset, aperture priority, panorama, document, museum, my mode

Focus capability: Normal (default), macro, infinity, manual

Date and time printing

Supported output file formats are JPEG for still images (with JPEG compression); MPEG-1 for video clips

TTL (through-the-lens) metering

Sound capture: 60 second audio limit applies to audio with still image capture. Audio with video capture is limited to the size of the memory card or internal memory.

Video file format: MPEG - 1

Video resolution: QVGA 320 x 240; max length: maximum length is limited to the size of the memory card or internal memory. Frame rate: 30 frames per second

1.8 inch (4.6 centimeters) color active matrix TFT LCD with backlight; 558 x 234 = 130,572 dots

Top of camera controls: 3 buttons (mode, shutter, video)

Back of camera controls: 9 buttons (macro/manual focus, flash mode, self-timer/burst, live view, playback, menu, navigation, zoom, power

Docking controls: TV button, printer, or PC button

Connectivity: Camera: 1 USB, HP photosmart R-series dock; dock: USB A (printer), USB B (PC), A/V, power

Direct print to any Pictbridge-enabled printer or all-in-one unit

Size: 3.78 x 2.36 x 1.38 inches (96 x 60 x 35 millimeters); camera dimensions maximum: 3.78 x 2.36 x 1.38 inches (96 xx 60 x 35 millimeters); dock: 5.12 x 2.13 x 1.26 inches; dock only (130 x 54 x 32 millimeters)

Weight: 0.4 pounds (180 grams) without battery, 0.5 pounds (204 grams) with battery; dock: 3.84 pounds dock with insert (108 grams), 1.26 pounds remote with battery (35.8 grams)

Battery Life: 260 shots (maximum), 115 shots (minimum), 200 shots (average)

Package contents: HP Photosmart R717 digital camera with HP instant share, HP Photosmart R-series dock, Wireless remote control for dock, battery for remote control, two HP Photosmart R07 rechargeable lithium-ion batteries, HP Photosmart 3.3V AC adapter, USB cable for connecting camera/dock to PC or PictBridge compatible printer, A/V cable for connecting dock to TV, dock insert for the HP Photosmart R717 digital camera, warranty and regulatory brochure, user?s manual CD with HP image zone software for Microsoft Windows and Macintosh, and wrist strap
With a list price of right at $400, the Photosmart R717-6MP is a very affordable high-resolution digital camera with features that rival many more expensive models. And since it's from HP you'll have a warm fuzzy feeling that you have bought a digital camera from a company that KNOWS digital cameras!