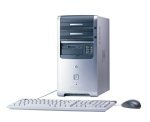 The HP Pavilion a805n desktop PC is an excellent multi-media PC for the entire family.

It comes with HP Image Zone photo editing and management software pre-installed, as well as a 48x CD-RW drive and a DVD reader. There are countless connections available for your peripherals, card readers and other hardware devices.

The a805n is a very expandable desktop PC. It comes standard with 512 MB which can easily be upgraded to 4 GB. The 160 GB hard drive provides plenty of storage for most families but a hard drive upgrade is quick and easy as well.

Product Specs:
2.93 GHz Intel Pentium 4
533 MHz System Bus
512 MB PC2700 DDR SDRAM (expandable to 4 GB)
1 MB L2 Cache Memory
MS Windows XP Home Edition
HP Internet keyboard
HP Scroller Mouse
160 GB Ultra DMA Hard Drive (7200 RPM)
40x (read), 16x (write), 10x (rewrite) CD-RW Drive
16x DVD-ROM Drive
Front panel 9-in-1 memory card reader
7 USB 2.0 Ports
2 FireWire Ports
1 Parallel Port
1 Serial Port
2 Game Ports
2 Free PCI Slots
Tower Case (16.5 inches long, 15.2 inches wide,
7.5 inches high)
1 Free External Drive Bay
The HP Pavilion a805n desktop PC is a very good choice for the family that needs a good multi-media computer. A good blend of power, expandability, and price make it a great choice for your next desktop PC.