Picture of the day - September 22, 2006
Gospel Grass On The Pickin' Porch Show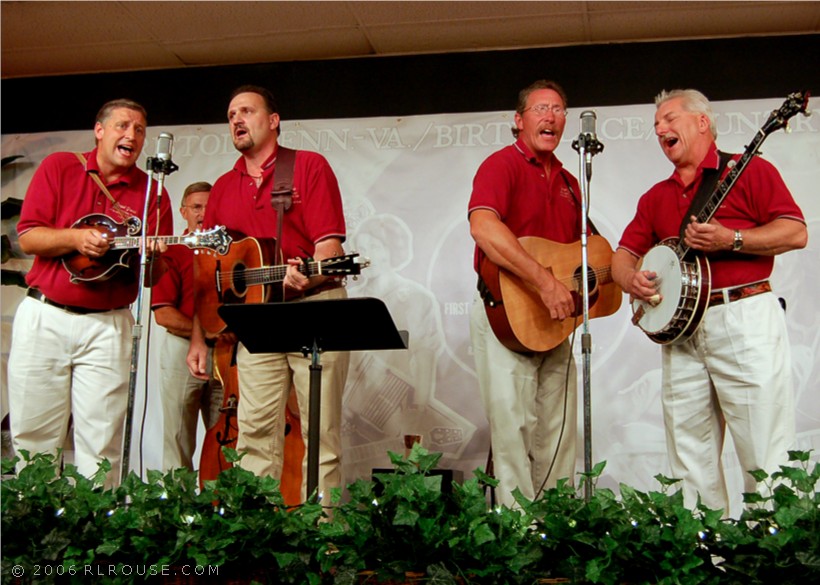 Click photo to enlarge
The featured performers on last night's Pickin' Porch Show was the outstanding Gospel-Bluegrass group Gospel Grass. These five gentlemen pick and sing as well as anyone in the business, but they only do it in order to help spread the Gospel of the Lord Jesus Christ!

The Lord has blessed each and every member of the group with the wonderful gift of music, and they all use it for His glory. Last night, they sang many of the wonderful old Gospel favorites that I grew up singing in church, adding their own unique Bluegrass sound that put a fresh face on the timeless stories of Jesus' tremendous love and sacrifice.

As they picked and sang, they invited the audience to sing along with them on several beautiful old hymns, and many of us did. We all had a great time enjoying some of the most beloved music ever written, performed by five guys who love spreading the Word of God through song to all who will listen.

Gospel Grass isn't out to gain fame or fortune. In fact, they didn't even introduce themselves by name during last night's show. They did have CD's available, but for just $8 each - barely enough to cover the cost of producing them. They even offered to virtually give them away to anyone who couldn't afford to pay full price. As far as they were concerned, the most important thing was getting the good news of Jesus Christ into as many hands and hearts as possible - and they really did a wonderful job at it!

If you know and love the Lord, you'll love the wonderful music and powerful testimony of Gospel Grass. If you don't yet know Jesus as your personal Saviour, you can find out why you need to and how to do it by clicking here.
---
Picture Of The Day Homepage | Submit a photo