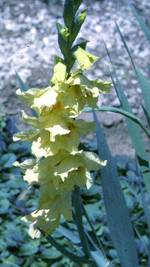 Gladiolus byzantinus

Type: Perennial

Gladiolus, a member of the iris family, are among the most popular garden flowers because of their beauty and ease of growing.

They feature sword-shaped leaves and produce spikes covered with double rows of trumpet-shaped florets. Gladiolus are available in many colors.

Native to South Africa, Gladiolus can also be found growing in the wild in parts of southern Europe.

The blooming season for Gladiolus ranges from July until the first frost in the autumn. They prefer sandy loam soil in full sun, but they can grown in most soil types.
---