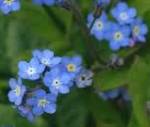 Myosotis Sylvatica

Type: Perennial

Forget-me-nots are lovely, small-blossomed flowers that really accent a flower garden. They are available in several colors, including the typical light blue.

Forget-me-nots do best in moist, well-drained soil of most any type. Full sun or slight shade is preferred.

In most parts of the United States, forget-me-nots bloom in June/July. In the fall they tend to re-seed themselves ensuring plenty of beautiful flowers the next spring.

Forget-me-nots are excellent flowers for attracting butterflies to your property. Just sow a few forget-me-not seeds throughout your flower garden and you'll have lots of those beautiful winged visitors all during the blooming season!
---