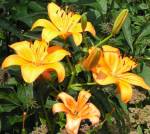 Hemerocallis Flava

Type: Perennial

Daylilies are native to eastern Asia, but are now popular the world over. They're very easy to grow and their colorful blooms really stand out from the crowd in a flower garden!

Most any type of soil is appropriate for daylilies. They're very hardy, require virtually no maintenance, and they spread quickly, all of which makes daylilies ideal for use as a decorative ground cover.

Add some daylilies to your flower garden or along a fence row to liven up your property and give it a colorful, yet down-home atmosphere!
---