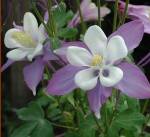 Aquilegia

Type: Perennial

Columbines are native to North America, and many of them are native to high Rocky Mountain slopes. They are available in several colors, including pink, lavender, and cream.

In cooler climates, columbines do better in the full sun, while in the warmer areas they do well in partial shade. They thrive in most types of soil, especially if a little fertilizer is applied along with an occasional watering.

Columbines add a distinctive beauty to lawns and gardens, featuring colorful blossoms and spurs (long extensions to the blossoms). New columbine plants grow during the first summer, then bloom the following spring.

---