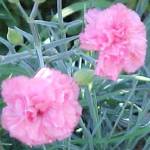 Dianthus Caryophyllus

There are over 300 species of carnations, including annuals, biennials, and perennials.

The carnation's beautiful, intricate petals make it a must-have for any serious flower garden and many commercially prepared flower bouquets.

Carnations grow best in rich, well-drained soil that is slightly alkaline. They don't require a lot of water, but an occasional feeding of fertilizer helps keep them healthy and beautiful all season long.

Carnations have long been recognized as the floral symbol of Mother's Day in the US, but they will brighten up your flower garden all summer long!
---