If you like your Bluegrass music energetic and fast paced, then Wild Blue Yonder is for you! An amazingly talented and supremely energetic Bluegrass group from Knoxville, TN, these seasoned performers will have you on the edge of your seat with your heart-pounding in sync with the rhythm.

Yet as energetic as they are, they have the rare ability to seamlessly transition to a soft, soulful ballad or tender love song. But be sure to hold on to your seat because it's right back to the lightning quick instrumentals in a hurry!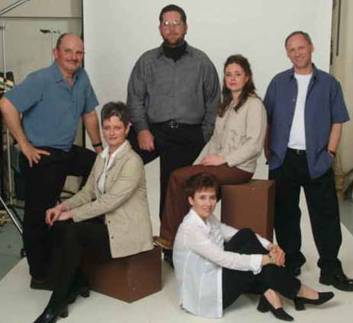 (L-R) Danny Garrett - Cindy Wallace - Scott Carris
Melissa Wade - Laura Knight - Philip Coward


This six-piece, all-acoustic ensemble plays a mixture of traditional Bluegrass and contemporary favorites, many of which are original tunes written by the band members.

Whether it's the simply amazing twin fiddles of sisters Cindy Wallace and Laura Knight, the innovative banjo style of Danny Garrett, the expressive mandolin and guitar work of Philip Coward, or the smooth, soulful vocals of Melissa Wade, there is simply nothing not to like about these amazing performers!

If you're ever lucky enough to be in an area where Wild Blue Yonder is performing, by all means take in a show. In the meantime, visit them at www.wildblueyonderband.com.

---
Back to the Bluegrass main page