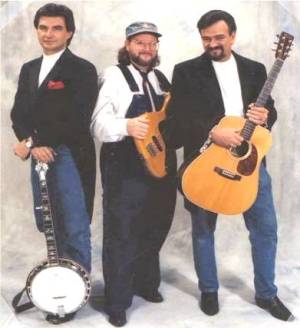 The VW Boys isn't your typical Bluegrass band. Their shows consist of a well-honed blend of music, comedy, and magic. And by the way, extensive audience participation is the norm!
Tim White

The VW Boys Bluegrass band is led by Tim White, who plays a mean banjo and sings. He has over 20 years of experience playing Bluegrass music, and it definitely shows.

Tim is surely one of the busiest people in the Tri-Cities area. In addition to his duties managing and performing the VW Boys, he also hosts a weekly Bluegrass show on WAXM radio (FM 93.5).

Every Thursday at 7 PM, Tim hosts the weekly live Bluegrass show "Pickin' Porch" from the Pickin' Porch stage located in the Comfort Systems USA Performance Center on the upper level of the Bristol Mall.

And as if all of that isn't enough to keep him busy, Tim also hosts the "Song Of The Mountains" bluegrass and old-time music concert series at Marion, Virginia's Lincoln Theater.

Larry McPeak

A Bluegrass veteran of over 30 years, Larry is an excellent musician who also sings lead and tenor for the VW Boys. His superb songwriting ability is well-known throughout the music industry and his songs have been recorded by some of the biggest names in Bluegrass and Country music.

Like Tim, Larry is one busy guy! He has played festivals and concerts all over the southern U.S. and much of Europe.

Dave Vaught

Dave is another multi-talented performer with the VW Boys (par for the course apparently). In addition to being a fine guitar player, he is also an accomplished magician.

Dave has performed music and magic in a wide array of venues throughout his 17 year entertainment career, including cruise ships, conventions, festivals, and many more. He has also appeared on HBO and ShowTime.

Check out the VW Boys!
If you enjoy quality live family entertainment, the VW Boys are a must-see! Magic, comedy, and great Bluegrass music all in one great show - who could ask for more? Visit the VW Boys at www.vwboys.com.
---
Back to the Bluegrass main page