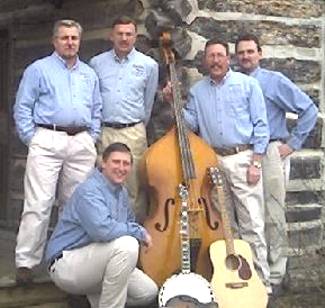 Gospel Grass is a Bluegrass-Gospel ministry based in the Northeast Tennessee area of Bluff City & Bristol, TN-VA. They began their ministry of Jesus Christ through testimony and Bluegrass-Gospel music in 1986 with the hope that someone will hear their message and come to know the Lord.

Gospel Grass performs in the traditional Bluegrass style. Their sweet vocal harmonies and perfectly blended instrumentals combine to provide one of the best Bluegrass sounds you will ever hear.

Left to right in the picture, the members of Gospel Grass are Mike Martin, Gordon Justice, James Thacker and Jeff Taylor. Dennis Houser is kneeling.
The members of Gospel Grass certainly possess the musical talents and stage presence needed to become one of the biggest acts in Bluegrass music, but that isn't their goal. While they love Bluegrass, they love the Lord even more.

They understand and accept their responsibility as Christians to use the talents that God has given them to help spread the Gospel of Jesus Christ to the world.

You can visit them at www.gospelgrass.org.
---
Back to the Bluegrass main page