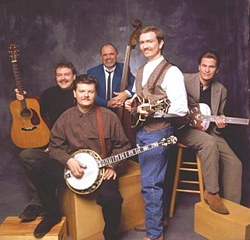 There are lots of Bluegrass groups, but very few Bluegrass supergroups. Blue Highway certainly qualifies as one of the most respected and successful groups in the genre.

They have walked away with multiple IBMA and SPBGMA awards, including:
Album of the Year
Emerging Artist
Gospel Recorded Performance
Instrumental Group
Guitar Player
Bass Player
Dobro Player
In 2003, Blue Highway was nominated for a Grammy Award for their first Bluegrass-Gospel project, "Wondrous Love" (which was was also nominated for a Dove Award the following year).

Left to right in the photo, the members of Blue Highway are Tim Stafford, James Burleson, Wayne Taylor, Shawn Lane and Rob Ickes. Blue Highway has performed at the Grand Ole Opry and with some of the biggest names in Bluegrass and Country music, including:
Alison Krauss & Union Station
Earl Scruggs
Dolly Parton
Patty Loveless
Ricky Skaggs
Doyle Lawson
According to Tim Stafford, Blue Highway was originally formed simply to "get together and have a good time", but it quickly became much more than that.

Today, they are one of the top-drawing groups in bluegrass music and they continue to stake out new ground with original songs, amazing instrumental performances, and soulful singing. Visit them at www.bluehighwayband.com.

---
Back to the Bluegrass main page