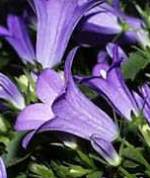 Campanula

There are about 300 species of bellflowers, including annuals, biennials, and perennials.

They come in white, blue, purple, and pink varieties with bell-shaped blossoms, hence the name bellflowers.

Bellflowers are among the easiest flowering plants to grow and they add a lot of color and variety to any garden. They make great additions to rose gardens and they really accent a wall or fence.

Bellflowers need plenty of sun and do best in rich, well-drained soil. If kept well-watered, bellflower blossoms will stay bright and colorful throughout the blooming season.

---