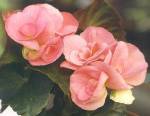 Begonia Semperflorens

Type: Annual

Begonias are native to South America, but are commonly grown all over the US, both indoors and outdoors. They are very hardy and easy to grow.

Begonias are available in white, rose, yellow, orange, red, and pink varieties. They require frequent watering and respond well to a light application of fertilizer.

While begonias grow best in partial shade, bright light will cause them to flower well.

---