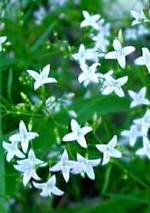 Gypsophila Muralis

Type: Annual

Baby's Breath is native to Europe but it is now quite common in the US. With it's small white flowers, Baby's Breath is often used in bouquets of roses and other flowers.

Baby's Breath does better in full sunlight in well-drained, non-acid soils, and it does quite well in fairly dry environments.

In most cases, Baby's Breath will bloom from early summer all the way through to early fall!

---