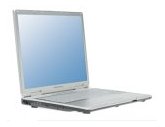 The Averatec AV5500-EA1 15" Notebook PC is an excellent value in terms of price and performance.

A powerful AMD Sempron 2600+ Mobile Processor, 256 MB RAM, 40 GB Hard Drive, DVD/CD-RW Drive and bright, super-clear 15" XGA display make working on the road easy and enjoyable.

The handy built-in multi-format memory card reader and DVD/CD-RW combo drive ensures that you'll be able to use your multi-media applications wherever you happen to be. It even features a TV out connection so you can watch DVD's on your TV!

This attractive notebook computer provides all the power and functionality of a desktop but the size and weight of a notebook PC.

Product Specs:
1.83 GHz AMD Sempron 2600+ Processor
256 MB DDR SDRAM (expandable to 1 GB)
Windows XP Home Edition
40 GB Hard Drive
40x (read), 16x (write), 10x (rewrite) CD-RW &
8x DVD-ROM Combo Drive
4-in-1 Media Card Reader (supports MMC, SD,
MS, MS Pro)
15" TFT Active Matrix XGA Display
SiS Integrated Ultra256 video/graphics card
(64 MB shared video RAM)
1 PC Card Slot
1 FireWire Port
1 S-Video Out Port
56 Kbps Dial-Up Modem
10-/100-Mbps Ethernet Port
802.11G Wireless Port
The Averatec AV5500-EA1 15" Notebook PC is perfect for use at home or while you're traveling. It could even easily replace your existing home PC.