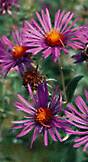 Asters are very colorful flowers, and are available in red, white, pink, blue, and purple varieties.

Asters are annuals, and they'll grow in most any type of soil, although they do best in alkaline soil. They make excellent accent flowers in flower beds.

Watering about once a week is recommended if you plant your asters in a dry area.

Expect the most colorful blooms between July and October.
---