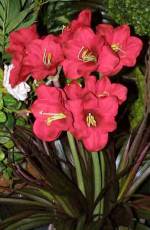 Hippeastrum

Wild species of Amaryllis (also called the Barbados Lily) are native to Central and South America, but several hybrid varieties have been developed and are sold as flowering plants.

Amaryllis are available in white, pink, green, orange, red, and various bi-color varieties. They grow best in cool, shaded areas and do very well indoors.

Amaryllis do not require large amounts of water.
---