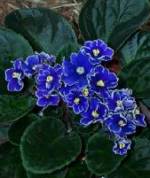 Saintpaulia Ionantha

African Violets are native to east Africa, but today they are one of the most popular indoor plants all over the world.

Several hundred varieties of African Violets are available in many different colors, including blue, violet, white, lavender, pink, red-violet, blue-violet, and lavender-pink.

African Violets need a moderate amount of light and water in order to remain healthy and bloom.
---