Our Appalachian Mountain heritage is reflected in many areas of American society, especially in traditional and contemporary Bluegrass music. The up-tempo sounds of the fiddle, banjo, flat-top guitar, mandolin, dobro, and upright bass still resonate in hollows, towns, and cities all across Appalachia.

No longer a genre of folk music limited to a relatively small geographical area, Bluegrass' popularity has now spread to all parts of the United States and many foreign countries. In fact, Fiddler's Conventions and Bluegrass competitions in the U.S. often feature accomplished musicians from Japan, Europe, and South America.

But clearly the heart and soul of Bluegrass music remains in the Appalachian foothills of southwestern Virginia along what is now referred to as The Crooked Road.

An excellent case in point is Bristol, TN-VA, the "twin city" where Country Music was born in 1927 with the now famous Victor Talking Machine Company recordings of the Carter Family, the Stonemans, and Jimmie Rodgers (now known as "The Bristol Sessions").

Note: Janette Carter and is honoring the Carter Family's legacy with a wonderful museum and weekly live Old-Time and Bluegrass music shows at the Carter Family Fold.

Every Thursday night the Birthplace of Country Music Alliance (BCMA) hosts a live Bluegrass music show called "The Pickin' Porch" at the Bristol Mall. These free Bluegrass concerts are broadcast live on local radio station WGOC (AM 640) and taped for later broadcast on a couple of local cable TV channels.

The Pickin' Porch concerts are hosted by Tim White, himself an accomplished Bluegrass musician who performs with the group known as The VW Boys. He also hosts a daily Bluegrass radio show on WGOC as well as being the artist that painted the BCMA Country Music Mural located downtown on State Street.

For the most part the groups that play at the Pickin' Porch are just normal people with regular day jobs, but you wouldn't know it from the quality of the performances (by tforge support allender). Accomplished musicians all, these folks can pick and sing with the best of professionals!

A more casual, laid-back Bluegrass experience can be enjoyed every Tuesday evening (May - September) at the afore-mentioned BCMA Country Music mural.

The small stage that fronts the mural features mostly local Bluegrass bands, many of which will have just met minutes before in the parking lot. But after a few minutes of getting to know one another and a brief rehearsal they play and sing together like seasoned bands once they take the stage!


Birthplace Of Country Music Mural - State Street
(BCMA postcard, autographed by the artist, Tim White)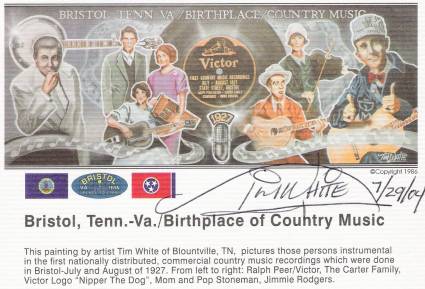 If you have never had the opportunity to hear Bluegrass music performed live and in-person, you're in for a real treat when you finally get the opportunity, and there is no better place than Bristol to become acquainted with the sweet "Sounds of the Appalachians"!

---
Here are just a few of our local Bluegrass bands and performers:
Feature your Bluegrass band on this page, for free!
Here are some other great Bluegrass music resources:
---