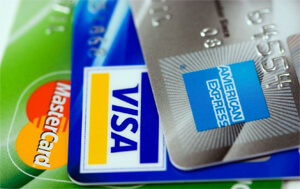 Credit card theft is on the rise. Did you know you can be a target?
In this day and age, your credit card information is at risk from criminals. In case of incriminating evidence against you in a scamming event, a lawyer can get you out of jail by pleading your innocence and demonstrating that you are merely a victim of a phishing attack.
How Do You Protect Yourself From Credit Card Theft?
Perpetrators of credit card theft are devising new methods to better their craft. Despite the financial limit on your credit scores, dealing with credit card theft may negatively affect you. Preventing credit card theft not only keeps your information safe, but is also a measure against online scammers. 
Here are five tips for protecting yourself against credit card theft:
1. Avoid Using Public WiFi for Your Financial Transactions
Public sites are not secure, and submitting your credit card details makes them vulnerable to hackers. Public networks are often unencrypted, providing a breeding ground for online hackers. Before you decide to make any financial transactions, first ensure that your network is secure.
If you must use a public network, change your settings to use a virtual private network to keep your personal information safe.
2. Destroy Public Documents with Your Credit Card Number
Before you toss your billing statements into the trash, check whether they have your credit card numbers printed on them. You should shred any documents bearing your credit card numbers. You never know who to trust with this information, so it is wise to be on the lookout.
As if shredding were not enough, keep the shredded pieces of paper in different trash bags to give the scammers a hard time trying to put back the shredded pieces of paper together.
3. Regularly Review Your Credit Reports
Credit card companies send you a credit report for you to review your financial standing. To ensure your credit information is accurate, review the report to identify errors that point to credit card hackers. By reviewing your credit card reports, you will also identify new accounts that you did not open and question their effect on your credit standing.
Once you identify any suspicious transactions, report them to the credit company.
4. Report Any Credit Card Losses Immediately
For one reason or another, you may misplace or lose your credit card. Once you lose your credit card, inform your credit card issuer that they need to cancel the card to prevent fraudulent charges that may occur within this period. Immediately reporting this lowers the likelihood of any fraudulent charges you may be liable for.
5. Be Wary of Who You Purchase Goods and Services From
Hackers are all around us. Some we may know, and others we do not. To be safe when making online purchases, you may need to install security software that alerts you when a website is a threat. Conduct your due diligence when making an online purchase to buy only from a reputable website with a security certificate.
Always remember: Safety Starts With You!
Online scammers pose as unsuspecting individuals, but their actions have negative consequences on your finances. It is necessary for you to take safety precautions to avoid being an online credit card theft victim. Take these steps to secure your credit score and future financial health.