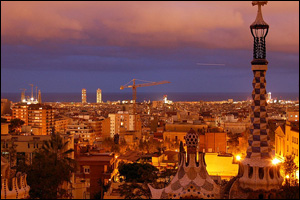 Getting to Barcelona
Easyjet has as many as six flights a day from London Gatwick to Barcelona.
Where to Stay (Barcelona)
The Hotel Market is located in the quiet neighborhood of Sant Antoni close to the Metro and only a ten minute walk to the Ramblas. The rooms are of an adequate size with comfortable beds, and a flat screen television. Wi-Fi is complimentary also, as are apples and bottled water. The hotel also boasts a reasonable priced restaurant, and a great bar.
The New York Times newspaper has called the Market hotel one of the best deals in Europe with their reviewer calling the hotel a "Diamond" after their three day stay. Room rates vary in price but if you visit their website you can find special offers like stay three nights, and only pay for two. To get here from the airport take the Aerobus to the stop Gran Via – Urgell from where it is a short walk to the hotel. Hotet Market is located at Pasatge de Sant Antoni Abad, 10 (+34 933 251 205).
Where to Stay (Sitges)
Sitges is a great sea-side town just 45 minutes away from Barcelona's historic centre and can be easily reached by bus or train. There are many accommodation options in Sitges and the main advantage is that you get more value for your money. Expect spacious apartments and rooms with great sea views and definitely a swimming pool to cool down from the summer's heat. For the best deals on Sitges accommodation visit Outlet4Spain.com.
Where to Eat and Drink
The Spanish all eat lunch at 2pm so you might have to adjust your clock a little. For breakfast (desayuno) look for a neighborhood bar that has a sign outside advertising "desayuno" which is usually a toasted roll with either butter, jam, or just olive oil, and includes a coffee, and sometimes juice. If you want to eat like a Spaniard order a "tostada con tomate" which is a toasted roll with a crushed tomato sauce.
For lunch the same thing again, but this time you are looking for "menu del dia" which is a three course meal including a drink for around 8€. Avoid touristy areas where you will pay more than you should.
Everyone of course likes tapas and the best deal to be had in Spain is from a chain of tapas bars called 100 montaditos (100 little sandwiches) with 100 different types of tapas from prawns to jamon you are sure to find something you like plus here's the best bit for every montadito you buy you can have a pint of excellent Mahou beer for only 1€ which is a bargain compared to 3.50€ you will pay in other places.
Plan to be in Barcelona on the first Sunday of the month when most of the museums have free entry.
Getting Around
Barcelona is a great city for walking and with so much to look at nowhere seems far away. If however you want to pack as much in as possible buy a metro pass to suit how many days you will be there, it will work out much cheaper than single tickets. Plus they also have passes that can be used by more than one person. Another free pastime is a trip to the beach where you are sure to see some interesting sites.
Two of Barcelona's beaches are close to metro stops Barceloneta, and Sant Sabastia. If you ask a local where to go they will tell you that the charming seaside town of Sitges is the place to go, but it will cost you 4€ each way by train but makes for a great day out.
About the author: Modi has been to Barcelona several times and still discovers something new each time he's back. For more questions about Barcelona you can connect with him @macmodi.
Photo credit: N. Rasmussen