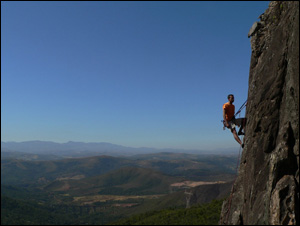 If you want to build muscle or burn fat, then going to the gym and lifting weights or running long distances is far from the only way to accomplish this.
Anything that involves a lot of exertion and strength over an extended period is going to be sufficient for burning fat and building muscle which means that a range of activities can be used to get the body you want, many of which are more interesting and entertaining than just lifting weights over and over.
For example, one of the very best activities for toning your body is rock climbing which in many ways is actually more effective that normal gym activities. Here we will look at the benefits of rock climbing and how to utilize it in your own training program.
Indoor Rock Climbing
Of course heading out onto the mountains with your harness and a whole lot of gear that you're going to attach to a cliff face, is not something that you can practically do on a regular basis. However the good news is that there are far more convenient ways to practice rock climbing that do make it a viable option for regular fitness activities. For instance there are many indoor climbing centers which provide you with the challenging walls to climb without the risk of climbing real mountains and where the ropes are all already set up.
Even better though is to practice either bouldering or traversing. The former here means essentially climbing large boulders and 'crags' just a short distance with a crash mat underneath. These are often very challenging over the short distance and involve your having to think about the way to the top strategically.
Traversing meanwhile means climbing left to right or right to left rather than straight up which means you're always close to the ground so there is again no need for ropes or safety equipment. This is a fantastic endurance task and one that will work your body very hard.
Why Rock Climbing?
So why rock climbing as a way to get fit? Well first of all, rock climbing is a highly intensive way to train and a great way to burn fat from clinging endlessly to the wall as well as to really develop almost every muscle in your body in relation to your body weight.
In particular you will train your lats and your forearms which will be used in order to grip onto the jugs and cracks in the wall and to pull yourself up, but you will also train your legs a lot and particularly your calves, glutes and thighs. Every good climber knows the importance of transferring their weight to their legs when climbing in order to help them with their endurance and this builds a firm and highly toned physique.
Most of all though, rock climbing is a great way to get fit because it is a lot of fun. You'll likely do this regularly with the same group of people so it's an ideal way to forge fast friends, and at the same time it's addictively challenging. Because it's so much fun and such a thrill, you will likely see this as a joy and not a chore and so you're far more likely to go regularly and to see your shape change for the better.
About the author: Pauly Singh from Ellipticalreviews.net is a fitness enthusiast and recommends rock climbing as a great strength and stamina building exercise.
Photo credit: Thiago Rezende