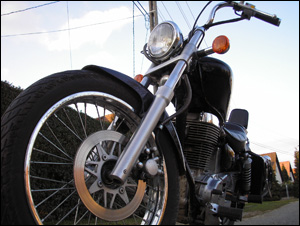 When it comes to motorcycle ownership, you should know that keeping a bike in safe working order is a lot more maintenance-intensive than car ownership is. Beginning riders don't always think about the little things that can lead to disaster.
Lots of things can go wrong with your car that are not usually catastrophic, but when you're on two wheels, a small thing can suddenly become a big deal.
First Look: The Tires
When I'm looking over my bike my first concern is the tires. For lifetime car owners, having at least one flat tire is not an unusual event. Most people will probably tell you that they have had a tire blow while driving and if it's a back tire it often is not a big deal. Even a front tire in a car can be no big deal, save for a few harrowing moments. Not so on a bike.
I have had two blowouts while riding. Fortunately they have been back tire blowouts and at a relatively low speed– about 35 miles per hour. It just felt like my rear tire had suddenly struck jelly. It got all soft and squishy, slipping and sliding until I got off the road and stopped. It was scary and not something I want to go through again.
The problem with a front tire blow out is you lose your ability to steer almost immediately. Suddenly you've got a soft tire swooshing side to side and as soon as those handlebars start wobbling you've got a serious issue. At that point many riders go down hard face first. With a motorcycle tire you have such a limited amount of rubber on the road that you want it all to count – the balance, grip and steering that tires provide is all that keeps you upright. So, if you have any doubt at all about the tread get rid of it.
The legal limit for depth of tread is 1mm but I would suggest changing at 2mm which is pretty much when your tire is starting to lose its nice rounded profile and starting to flatten out. Also replace tires if you notice any sort of deformity to the sidewall. A bulge or gouge is sign of weakness that will eventually give way.
And if you ever find something embedded in the tread like glass or a nail, pull it out right away, and if it seems to have penetrated more than a scant millimeter, you should replace the tire. Although it isn't safe to drive on worn out car tires, it's a risk many people take in the name of savings. As a motorcyclist, you simply can't afford to do that. Better to store your bike than ride on bad tires. Which brings us to the second major maintenance concern.
Proper Storage
I live in the San Francisco bay area and here most people ride their bikes all year long. If you live in a state where winter weather just makes riding all year long unbearable, or your bike is a hobby that you don't ride on a regular basis, you're going to need to store your bike safely.
Cars are much more forgiving when it comes to storing them and not riding or starting them up. Motorcycles need maintenance both during periods of riding and periods of storing.
First, get your tires off the ground; take a load off. Put your bike up on blocks or its center stand and you'll be doing your tires and your bike's suspension a big favor. Go ahead and inflate your tires to the maximum so that they maintain their natural shape and extend longevity.
Second, to keep your gas from breaking down you might want to add a fuel stabilizer to the gas tank. And keep your take full. Moisture can easily build up in a partially full tank from condensation. So to reduce the build-up eliminate the air space with a full tank.
Third, change the oil. Dirty oil can trap contaminates which damage rubber seals and cause leaks. Change your oil filter as well to add longevity to your motor, so that particulates aren't circulating and slowly grinding away at sensitive parts.
Motorcycle ownership demands more upkeep that does owning a car, but by ensuring that you care for your tires and store your bike properly, you'll be eliminating the majority of typical problems. The extra care that goes into bike ownership can sometimes be a pain in the behind but it is easily made up for the moment you get out on that bike on a beautiful summer day. Take good care of your bike and it will take care of you.
About the author: Eric Freidman is passionate about sport biking and ATV riding. He writes from Corona, California about Rogue MX bike parts and ATV parts.
Photo credit: fa snail