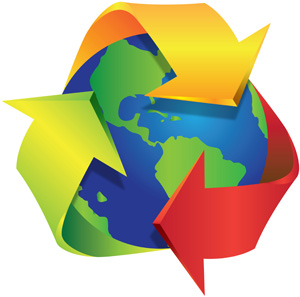 From an environmental standpoint, recycling is infinitely preferable to dumping items in a landfill – but recycling has its own environmental costs. When possible, re-using materials is a far more eco-friendly practice than recycling them.
The Environmental Costs of Recycling
The recycling process itself is, at its core, a manufacturing process. As such, it results in carbon emissions, air pollution, water pollution, energy use, and many of the same types of environmental costs of producing the "original" or un-recycled article.
To be clear, a recycling process results in fewer of those environmental costs than manufacturing from "virgin" materials, but the costs themselves are not negligible, ranging from twenty percent to eighty percent (depending on the material being manufactured or recycled) of the comparable process of manufacturing from scratch.
Recycling is environmentally (and economically) preferable to tossing items in a landfill, but many people forget the environmental costs that are still incurred by the recycling process. Re-using items in their existing state, rather than recycling the materials into new versions of the same product, is a considerably more environmentally friendly practice.
Shifting from "Recycle" to "Re-Use"
The environmentalist mantra of "Reduce, Re-Use, Recycle" has been reduced in practice to that last of the three elements. Thanks to environmental awareness campaigns and curbside recycling programs, the numbers of people who regularly recycle have increased steadily. However, very few people heed the "Reduce" and "Re-Use" advice. In fact, the country's consumerism hasn't changed measurably; people still jettison immense quantities of "disposables," their consciences assuaged by the fact that they're recycling some of it.
Again, recycling is better than throwing away–but the first line of environmental activity should be re-used. Some of this could be achieved at the corporate level; for example, consider the environmental advantages of bottling beverages in (properly sterilized) used glass bottles rather than going through the process of breaking down the existing bottles and creating brand new ones identical to the originals.
Why Is It Hip And Happening?
Grassroots movements are often the more effective, however, so for the individual who is interested in promoting re-use, the best place to begin is at home, such as by using permanent items instead of disposable ones.
Reusable shopping bags (rather than accumulating and throwing away the paper or plastic bags provided by stores) are a highly visible example, but this practice can extend to all manner of items. When a person uses any disposable item, they can pause to ask if the permanent version could be used instead, or if the disposable item can be repurposed after its first use.
Re-Use networks, such as the Freecycle Network with its eight million members provide a platform where people can post items online rather than throwing them away. One person's trash is another person's treasure, as the old saying goes – and this thriving network proves the point. Network members find things they want for free, and every item swapped on a network is an item that's not headed to a landfill.
About the author: John is a small business owner and contributing writer for Ethosource Pre-Owned Office Furniture.
Credits: Photo courtesy of Michael Lorenzo.