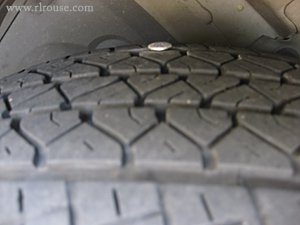 It's easy to tell when one of your tires has a slow air leak: You notice that one of your tires is a little low, so you stop by an air pump and fill it up, only to have it go down again overnight.
The cause of a slow leak is almost always a foreign object like a nail or screw lodged in the tire. Most slow leaks can easily be fixed by the owner as long as he/she has an air compressor or portable air tank with which to re-inflate the tire after the repair has been made. Here's how:
1 – Purchase a tire repair kit which contains a rasp, a tire plug insertion tool, a number of tire plugs and a tube of cement. These kits are readily available at auto parts stores, Wal-Mart, Kmart or most any retailer that sells automotive related hardware.
2 – Put on a pair of safety goggles.