Picture of the day - June 25, 2005
The Alamo At Night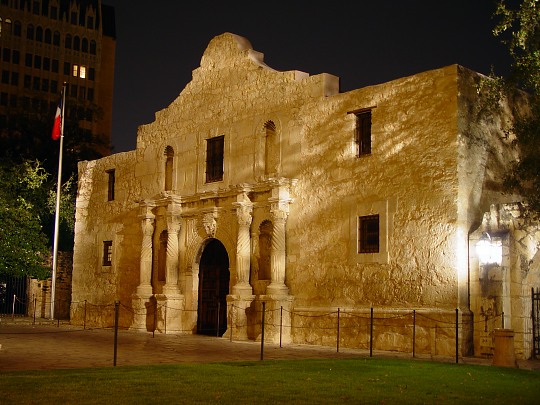 Photo courtesy of Scott Dommin.


For Texan's, The Alamo is the sacred shrine of Texas liberty. Beginning on February 23, 1836, a small band of Texas revolutionaries defended this beloved mission against the relentless assault of an overwhelming Mexican force led by General Antonio López de Santa Anna.

Although the Alamo ultimately fell on March 6 along with all of its defenders, the courage and resolve displayed by those men during that thirteen days served as the inspiration to complete the task of gaining Texan independence. The legendary Davie Crockett, Jim Bowie and William B. Travis were among the brave souls who fell at the Alamo, with each of them gaining permanent status as true American heroes.




Today, the Alamo is just as revered as ever - almost 3 million people a year come to San Antonio to visit the hallowed 4.2 acre complex and walk in the footsteps of legends. Today's picture features a nighttime view of the Alamo, the front wall respectfully lit up in a manner befitting such a beloved memorial.

If you wish to visit the Alamo, you'll find it standing tall and proud at 300 Alamo Plaza in downtown San Antonio, Texas.

---
Picture Of The Day Homepage | Submit a photo