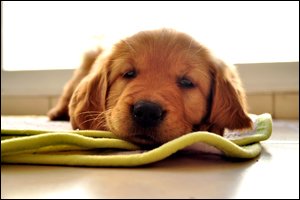 One of the biggest challenges for families when it comes to pet dogs is the housetraining process. This is probably one of the most challenging of them all and if a pet owner succeeds in this part, then they are bound to take on those future challenges as easily. So here are a few simple but highly effective tips in how to housetrain your pets on your own:
Train them young
Although it is also possible to train older dogs, training is so much easier done when the dogs are still at a very young age. Dogs are trained best at ages between 8 to 12 weeks. If you train them younger than that, they may not be able to control their movement just yet and may make everything so much more difficult. So wait until they are in the right age till you start housebreaking.
Crate in your dogs
Crates resemble like a cage with of course, a door with locks and all your dog's necessities inside. What is very important here is to find a crate that your dog can comfortably live in – not too small that your pups will be uncomfortable in and not too big to eat up your entire floor space. You'll also want to have a comfortable dog bed for your pup to rest on inside the crate.  Aside from that, as much as possible, never confine him or her inside the crate for longer hours. Instead, make use of the area for sleeping and feeding purposes alone and simply let him roam around for activities other than that.
Create a pattern that your dog can familiarize with
One good example would be to go out on the same door. The purpose of such would be to tell your pet which door to scratch on to when he or she wants to go outside the house. Aside from that, you should also walk your pets at around the same time in a day. This will establish a routine in him that will remove that problem of him wanting to go out at other times of the day.
Positive reinforcement
Once your pet does something that you tell him to, give him a reward of some sort – from a cookie snack to a pat in the head. This will reinforce his idea on what are the "good things" to do and what are not. This will make obedience issues so much more manageable. Never delay giving the treat to keep him from associating the reward with other actions.
Never yell
Dogs have feelings too and they need to be disciplined with love. So if you find your pup misbehaving, a firm "no" will do just fine. Remember, your pups will not know at first what the rules of the house are. So during these first few weeks, be very observant and show to him just what places he needs to keep off from and what behavior is expected of him inside the house.
So keep these tips in mind. With a little patience, you are bound to see that trained pup as part of the family.
About the author: This article was written by Kelly Marshall for Oh My Dog Supplies.
Credits: Photo courtesy of Mariana Figueroa.