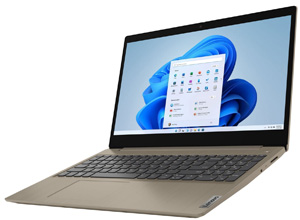 If you're thinking about getting your child a laptop for school, you may be wondering what the best specification is to purchase. This article will discuss some of the considerations when making a choice for a school laptop for your child.
Robustness
Giving a child an expensive piece of machinery isn't always the best idea as they can be prone to breakages. So, you want to try and protect your pocket from a disaster! Where possible, read reviews of laptops prior to purchasing and look for words like robust or sturdy. This will allow you to purchase something that has a little more protection should it get dropped. 
You should also think about insuring your laptop. Usually the company you purchase from will have deals on cover when purchasing and it's definitely worth it when buying a computer for kids. Lenovo have a range of good laptops for school and can offer additional cover for longer term protection should you need it.
Price
There is no right or wrong when it comes to price, and you will be able to find something to suit most budgets. The truth is, the price needs to reflect the activity it's being used for.
If your child is only browsing the internet and sending work to their teachers, then a basic computer will more than suffice. However, if they are on a complex computer science course, then you may have to shell a little more out of your pocket in order to find something that meets their needs. The same has to be said for if your child is going to use it for gaming as well. Gaming requires a much higher spec computer as it has to be able to 'think fast' and therefore comes with a price tag.
Make a list of all your requirements and decide on an approximate budget in advance. Then speak to a sales advisor to get the best possible specification within your price range.
Processor
The processor is the brains of the computer, and the bigger the core the more powerful (and usually expensive) the PC. Processors range from dual cores up to 64 cores, so there is huge flexibility in this area, but for standard every day tasks dual core will probably be more than enough. If you want to future proof the computer a little, you could add extra cores (4-8) which will likely be enough to cover most functionality your child will ever need. However, in most cases, technology moves that fast that you may be best off just buying what they need right now, and either upgrading or purchasing a new machine in the future when necessary.
RAM
RAM is the other specification that aids your PC in everyday tasks. It is effectively your computer's short term memory. The more memory your computer has, the faster it can perform tasks. Most basic
tasks will not require more than 4GB, but the more RAM you have the better. So, get as much as you can within your budget.
Take some of these considerations into account when purchasing a school laptop and you should find you have no trouble in choosing a machine that meets your needs and your budget.