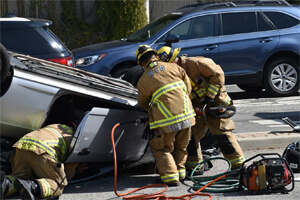 After being injured in an accident caused by another individual, you are entitled to reimbursements for your damages.
After seeking medical attention, your next best step would be to source for one of the best teams of personal injury lawyers possible; an example of such a legal team is Gibbs and Crivelli.
When dealing with a personal injury case, you want to ensure you win your deserved settlement; therefore, you need to channel your efforts into building a strong legal unit. In this case, asking questions is essential.
Below are some of the most important questions to ask before hiring a personal injury lawyer. 
What kind of questions should you ask?
1 – How many personal injury cases do you handle out of all your cases?
You need a lawyer that is more dedicated to personal injury cases instead of other general practices since they'll be more experienced and have the expertise in handling cases similar to yours. If the lawyer isn't committed to accident cases or personal injury affairs, then you have to consider another more suitable and specialized attorney.
2 – What are the firm's billing rates?
The typical billing strategy for personal injury attorneys is based on contingency payment, where you are only required to pay if you receive the settlement from your claim. Your attorney can deduct some amount from the compensation received. You should confirm with the attorney whether this is the case with their billing plan before proceeding with other processes.
3 – How long might the case take to resolve?
Many factors may influence the length of your case, and you need to ask the lawyer to clarify to you in their professional opinion how long they think the case will take before it is resolved.
Cases with clear liability and serious injuries could take 6 months to settle, but a case would take longer if it is moved to trial.
4 – What number of cases have you handled from referrals?
If an attorney has handled a good number of cases from former clients and colleagues referring new clients, then it means they are skilled and well informed. The lawyer must have satisfied many clients who now hold them in high esteem for them to recommend their friends and family to the attorney.
5 – What is the estimated worth of my personal injury case?
Although it may not be precisely accurate, your attorney can give you an idea of what to expect from your claim. Using the facts of your case, the extent of your injuries, and the evidence you have, they may come up with an estimate of the possible settlement your claim is worth.
6 – What resources will you offer in the resolution of the case?
Cases to do with personal injury issues often require the opinions and testimonies of expert witnesses. Your attorney will need to have access to medical experts, accident reconstructionists, and any other experts that have a role to play in a personal injury case.
7 – Will you be available as my primary legal contact?
Once you hire an attorney, you might find yourself dealing with paralegals and other case assistants instead of direct contact with the attorney. Consequently, you should ask your lawyer to dedicate their time to handling your case and staying in direct touch with you.
Experience and Technique Are Key
There are many more questions to ask; however, these are the most important questions to ask a personal injury lawyer before hiring them. You should ensure you have covered all the significant aspects you need to know about working with a legal representative.