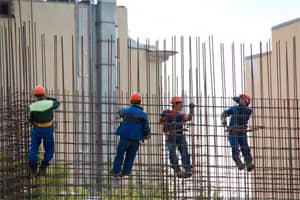 Construction sites are one of the most dangerous work sites available out there. No matter how many safety procedures and laws a company implements, workers can still expect injuries and deaths.
Construction sites are much more dangerous than other work sites. Thus, the accident frequency is high due to heavy machinery, unsafe working conditions, debris, and many others.
In severe cases, construction workers can expect paralysis, severe burns, or even dismemberment. 
Construction sites will remain inherently more dangerous than other workplaces; however, it doesn't mean that workers should always expect to be severely injured.
Below, we'll cover the most common types of construction accidents, how you can avoid it, and what steps you must take in case of severe injury.  
1- Frostbite, Heat Stroke, and Exhaustion
Many construction projects happen in extreme weather conditions. For instance, working under the sun may cause heat exhaustion or heat stroke. If not treated immediately, it can lead to organ failure, brain damage, and death. 
In contrast, working in heavy snow or rain may cause frostbite and amputation. You might also experience hypothermia if you work in wet clothing and without proper gear. 
Working under extreme weather conditions may lead to other weather-related injuries. For example, spending long hours working outdoors and under the burning sun can lead to dehydration. Just as well, working in heavy snow or rain puts you at risk of slipping and falling. 
2- Heavy Equipment 
No matter what type of construction site you're on, you'll always be around trucks, cranes, and other hydraulic equipment. The injuries could range from severe burns or cuts to life-long impairments. 
You shouldn't experience any serious injuries as long as the equipment is well maintained and appropriately used. However, some companies fail to set proper operating instructions and invest little time and money into proper upkeep and maintenance. 
3- Falls from Heights
Constructing new roofs or high buildings requires spending most of your time supported by scaffolding, ladders, guard rails, and safety harnesses. If improperly installed, these can cause workers to fall.
Falls from great heights may cause severe injuries, including traumatic brain injuries, paralysis, spinal cord injuries, and even death. 
4- Electrocution and Fire
Hundreds of construction workers die each year due to defective machinery, exposed wires, flammable materials, hazardous chemicals, leaky pipes, electrically charged materials, and many others. 
Construction workers are generally unaware of basic electrical safety guidelines or lack the appropriate training. Electrocution and fire accidents are usually severe and can cause head wounds, burns, dismemberment, and even death. 
5- Falling Objects 
Falling objects such as debris, bricks, materials, and other tools pose a significant threat to construction workers despite wearing protective gear. No matter how small the item is, it can still cause severe damage. 
Falling objects may cause minor bruises and cuts, brain injuries, head wounds, spinal cord injuries, and death. The further the object falls and the bigger it is, the greater its impact. 
Protecting Yourself
In a personal injury lawsuit, the victim must prove that another party was negligent and responsible for the accident. The victim must usually demonstrate that they did not act in an unsafe way that caused the injury. 
To protect yourself from construction accidents and prove that you weren't negligent in case of a personal injury lawsuit, make sure to follow these steps:
Wear proper safety gear (i.e.  gloves, hard hats, boots, etc.).

Stay aware of the weather and report dangerous conditions.

Follow your company's safety regulations.

Follow operating instructions carefully.
Unfortunately, accidents are inevitable and might still happen despite taking all precautions. A negligent party can cause workplace accidents leaving you with severe injuries.
In this case, you might want to consider hiring a workers comp lawyer so you can receive a settlement you deserve.