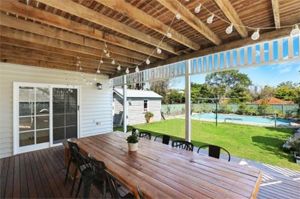 If you're thinking about adding deck to your home, there are several important things you might want to consider while choosing a type of deck to build.
For example, a deck can be just large enough to fits two people or as big as a spacious room that can accommodate heavy furniture.
A deck, which you can construct in front of your building, at the backyard, near your pool, in your garden, or as a connecting space between two buildings, is like an extension to your home.
Once you construct a deck, you will find that it's not only appealing and elegant but also functional and complementing to your home.
Additionally, a deck can increase the value of your home. It can also be a space where you relax, host social gatherings, serve as a play area for the kids, and more. In short, it can be every outdoor fun thing you want.
So, before you start building your deck, you must ensure that you are constructing the type that best suits your needs.
It must suit your architecture, offer practicality, and most importantly, blend with your lifestyle. To that end, we have written this article to enlighten you about the outdoor decking types.
After reading the entire article, we are sure that you will find the type that resonates with you.
Here's a breakdown of the types of outdoor decking that are available for you to choose from:
1 – A deck to use as a porch
A deck can be like your porch that travels around your home. This design is possible for homeowners who have lots of free space around their homes.
You can make use of the space by constructing a deck that connects to all your rooms. You can access it from your back door, front door, any other door that connects to the outside.
Also, deck as a porch is best for the persons who enjoy spending time outside irrespective of any weather. You can have a sitting arrangement that can withstand any kind of weather.
Whether you are thinking to renovate or build a new home, then think of this idea that can satisfy your outgoing lifestyle.
2 – A deck for hosting for outdoor barbecue get-togethers
Are you kind of a person who loves to arrange barbecue dinners or luncheons? Then you must a have deck solely for barbecue station. If you often feel stuffed in the kitchen cooking food, then an outdoor station for grilling is perfect for you.
Whether you want to enjoy warm summer air or chilly breeze in winters, you can undoubtedly make the place blend with you. Also, as it has equipment like grills, stoves, and other tools, you may consider building a roof over the deck to protect the equipment.
For this decking type, wooden material is more suitable. It can stand the heat, looks beautiful, and gives your home a rustic feel. But if you are not sure which is better in composite vs. wooden decking, you can seek professional help always to know the expert opinion.
3 – A deck for your swimming pool
A deck completes and elevates the stylish look of a pool. So, if you have a pool or want to construct it, don't hesitate to add a deck. You can construct a deck around the pool or on any one side, depending on your functionality.
Additionally, you can add lounging chairs, towel racks, shower stand, and many more. Also, as you'll walk barefoot on the swimming deck, make sure the surface you choose is smooth, soft, and easy to walk. And it should also contain enough friction to protect you from slipping.
4 – A floating deck
Yes, you heard it right. Decks can be constructed in a way that gives a floating effect.
Unlike normal decks where you have to remove siding, floating decks use side supports to give a free-standing effect. Browse through a thousand images online to get an idea.
They look modern, trendy, and gives a flying effect. However, extra care is needed while building to ensure that the deck is supported well enough. Otherwise, your deck may give a tilting effect.
You can build this outdoor deck in a small space or a big area. You can do it around a pool or attaching onto a wall in your backyard. Or even as an individual structure in your garden.
Whenever you have a doubt, imagine how a deck would look like. The vision will tell you whether to go for the design or not.
5 – A layered deck
You might have heard about the double-story building. The same concept you can use for the deck which becomes a layered deck. You can connect one lower and upper side of your deck by using steps, sliding ramp, etc. You can use both the spaces for different purposes.
It'll be great when you want to have a stage for your kids to show their talents. Or you can allocate the lower deck for placing different potted plants, and the upper deck for dining and lounging. Depending on your purpose, you can customize the deck area that suits your lifestyle.
6 – An elevated deck
Why not construct a deck that has an elevated look? It means that it's not constructed on the ground but at a certain height you want. You have to build steps or ramp to reach the surface of the deck.
Do you think this style will suit your home? Then without any further ado, locate a place at your home and start imagining how it would look like.
Does it complement your home architecture? Does it look stylish and modern? Does it serve your purpose? If 'yes' is the answer to all these questions, then you may found the right deck type for you.
Bottom line: Choose what your heart tells you!
So, what do you think of these types? Did you find the one that's suitable for you? It's a pretty good bet that you did.
But don't worry if you did not. You can always search for more ideas online. You will find not only ideas but also various designs and features. You can also many choices in material. For instance, composite decking is eco-friendly so if you want to promote greener earth, you can choose it.
For more realistic picture, drive to your friends', family's houses, and glance at their decks. You will have the type, or at least you'll get an idea of how your deck should be.
Whatever you do, choose a style that your heart tells you. Don't compromise on design, type, and material on the basis of what other saying. At the end of the day, it's you who have to live and it should be you who has to make a decision.
About the author: Hi, I am Mike Morleye. I write on various niches, however, I prioritize writing on composite decking and other home improvement related topics. As a professional writer, I put together my writing skills to share knowledge on diverse topics in a readable, understandable and appealing format.