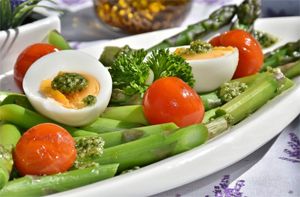 It's the holidays and you're going to parties at work, stopping by family and friends' homes, and entertaining.
You want to try to make healthier appetizers and snacks this year and try some tasty non-alcoholic beverages.
Having some holiday board games to entertain, and ideas for making simple holiday gifts make the season more festive.
Healthier Holiday Entertaining: Recipes and Beverages
Vegetable trays with a tasty dip are very handy to use for parties or when company comes over unexpectedly. Plastic trays or aluminum trays for vegetable or fruit platters can be found at most supermarkets and retail stores.
Choose colorful vegetables that give the tray a festive appeal. Cherry tomatoes, carrot sticks, cucumbers, red, yellow, and green sliced peppers, black olives, broccoli, and cauliflower are good choices.
Buy and prepare your own vegetables. This will cut the cost of buying a premade tray. Make a fruit platter for guests that want a dessert that is healthier.
Use pineapple, melon slices, grapes, fresh strawberries, kiwi slices, figs, dried apricot, oranges, grapefruit, and apples. Add some nuts and seeds.
Cheese and cracker platters are another healthy choice for entertaining. They can be served with fruit, spreads and dips for festive holiday entertaining. These dips and spreads go well with vegetable trays and cheese and cracker plates.
Buy fruits and vegetables in season to save money on the cost. Look for cheese and crackers on sale during the holidays. Often stores will be promoting certain brands with holiday recipes.
Try some simple hot sandwiches when unexpected guests arrive to visit. Grilled cheese sandwiches topped with tomato and herbs, tuna salad, sausage and peppers, grilled ham and cheese, hot turkey with gravy, or meatball are standard and easy to make fast.
During the holiday season, Monin syrups and sauces make delicious holiday beverages that really impress. They have a number of coffee recipes, mocktails, punches, soda, and tea recipes. Gourmet dark chocolate sauce can be used to make a number of different hot cocoa recipes and desserts.
Try Monin Peppermint Hot Cocoa for a festive holiday treat. Put 2 ounces of Monin Dark Chocolate Sauce in 12-ounce to 16-ounce coffee mug. Add 1 ounce of Monin Peppermint Syrup, combine ingredients, and stir well. Heat two cups of milk in a microwave-safe glass or ceramic dish for 30 seconds. Use a handheld whisk and whisk until frothy and bubbly. Pour into mug and stir. Add whipped cream and peppermint candy. You can also heat milk on the stove until hot, add to cup, and stir.
Games and Simple Gift Ideas
Pick up some holiday board games to play during the holidays. A Christmas trivia game can provide hours of fun. Pull out your trivia game and play a game or two. There are many inexpensive board games on the market for holiday entertaining like Home Alone, The Santa Claus Game, There Might Be No Christmas, Christmas Charade Game, and This That and Everything Christmas. Games can be played by children and adults.
Holiday gift baskets are an easy gift to make and give for the holidays. You can use baskets, flower pots, water cans, buckets with special gifts geared to hobbies and interest. A food lover's basket can have Monin syrups, chocolates, nuts, pasta, coffee, sauces, snacks, dried meats, and hot cocoa.
Ideas for holiday gift baskets are plentiful and easy to brainstorm. A holiday gift basket for children can have toys, games, books and stuffed animals. Gift basket for gardeners might have seeds, bulbs, gloves, pots, gardening tools, and books. These are just a few ideas to start with.
Focus on one theme for a holiday gift basket. A cheese lover's basket would have cheese with crackers, a wooden cutting board, and knives for cutting cheese. An ice cream party basket can have all the toppings, scoops, sprinkles, bowls, spoons and nuts. You have to add your favorite ice cream. A grilling basket can have recipe books, spatula, seasonings, gloves, skewers, and a basting brush.
Entertaining for the holidays can be enjoyable and kept simple to keep the mood upbeat and time spent with other enjoyable. Simple food and beverages, hand made gifts, and board games all make entertaining easier.