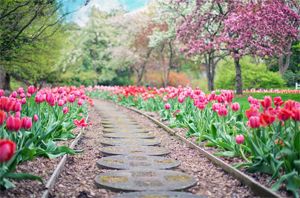 Spending time in the garden, surrounded by flowers, bushes, and other greens, is our idea of the perfect weekend day.
Tending the flowers has more benefits than just the visual appeal. Did you know that these activities increase the market value of your home?
Most people who spend their days landscaping don't think about the monetary value they're adding.
It's their garden, and spending some time outdoors is a relaxing time for them. However, all these hours spent in the garden will have a huge payoff while selling the property.
Curb Appeal
The first impression is often the most important. Whether you're going to a new restaurant or meeting someone for the first time, your first impression sets the tone for some time.
A potential house buyer undergoes the same process when seeing your home, and the garden is the first thing they'll see. Our friends at Forest Hill Real Estate highlight the difference a mature garden can have on the price.
Landscaping indicates that effort and care were invested in the house. Buyers know that they are inheriting a property in which the previous owners took care of. For that reason, they are willing to pay more.
The Numbers
Landscaping the garden increases market value, but how much of an impact does an attractive backyard have on a house's value? Landscaping raises the market worth of a home by at least 5%, but the increased value of a home can be as high as 13%.
Pretty flowers only won't improve the value beyond expectations. Different types of landscaping, such as planting trees and installing outdoor structures, also adds value to a property.
Short-term Landscaping
Great projects, such as making the garden as colorful as possible, is a great project. However, this is rarely done with the intent of increasing market value.
However, some landscaping can be done to increase the house value. If you intend to sell the house in a year, for example, you could make some adjustments in your backyard.
Cutting edges around planting beds is an excellent method to begin with. Well-defined and sharp intervals between grasses add the final touch for a professional and nourished looking yard.
You should fertilize your grass if you want to reach this cultivated look. To break the monotony, you should plant a couple of bright flowers.
Without fertilizer, the lawn would resemble a torn old carpet. Buyers don't purchase flawed items but are willing to pay more for breathtaking ones.
Final Thoughts
Landscaping is for many of us among their favorite pastimes. There are not that many things that can compare to the satisfaction of tending flowers on a sunny Sunday.
Not everyone knows that landscaping has other, more economical purposes. A well-cared garden increases the market value of a house.
The real upsurge in market value comes from long-term projects. Buyers love to see mature trees and are willing to pay more for a home with a diverse garden. Manicured designs are another favorite of house buyers.