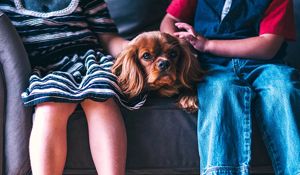 Dog obedience training is meant to teach your canine friend basic commands, how your dog should behave, and how to be social.
You can do this by either working with a dog trainer or enrolling your dog in a dog obedience training school.
If you know the training techniques, you can even do it yourself. Your dog will be happier, and you will start enjoying company of your dog.
It totally depends on you to educate your dog through training and socialization.
You can't expect your dog to follow the rules if he is not aware of those rules. Just like we educate our kids and the process benefits both parents and kids, similarly, dog training benefits both the pets and their owners.
Here are several reasons why your dog should get obedience training:
1 – It Promotes Bonding
Obedience training lets you build a strong bond with your dog.
Dogs are social animals, and their bond with humans can be stronger than any other animal. As you put more effort and time every day to educate your dog, you'll strengthen the bond with your dog and will get more joy and satisfaction from dog ownership.
When you enroll him in a great dog training program, your pup will become more obedient and well behaved and will start seeing you as a confident and thoughtful leader.
2 – It Ensures Better Control
The basic commands your dog should know include come, sit, drop, stay, stop, no, wait, leave it, drop it, watch me, and quiet.
As your dog starts understanding these commands, you can better manage your dog as he encounters different situations throughout the day.
These commands help you take control of your dog at different places like at the park or on a walk.
Obedience training teaches your dog to obey your commands and to greet other dogs and people with manners.
Better control enables you to take your dog to events, your friend's home, or public parks.
3 – It Helps Guarantee Safety
A well-trained dog is also safe for you, your family, friends, and for itself.
Trained dogs are more secure as they have no threats of dog bite, have a lower risk of getting hit by a vehicle, and attack or get attacked by another dog.
Moreover, you can give your dog treats to reward his good behavior. This way, your dog will realize what you want him to do.
It's particularly important to take control of the energetic, distracted, or aggressive dogs to save their life.
4 – It Promotes Happiness and Social Skills
When you get to learn the dog language, you can communicate better with your dog and other dogs as well.
Dog training also involves teaching your dog how to interact and socialize with other dogs. You and your dog may encounter other dogs at parks, walks, vet's office, or puppy hotels.
Your dog must know how to act in those places, especially if he is the only pet you have.
Your dog must learn proper behavior to ensure safe and healthy interaction with other animals.
Bottom line: Obedience training should be viewed as a requirement, not an option. The time and/or money spent training your dog will likely turn out to be the best investment you'll ever make!